Shopping Basket
Your Basket is Empty
There was an error with PayPal
Click here to try again
Thank you for your business!
You should receive an order confirmation from Paypal shortly.
Exit Shopping Basket
| | |
| --- | --- |
| Posted on 9 March, 2017 at 11:10 | |
BRYAN Cooper seems to have been around a long time but one look at the cherubic face and you are reminded that he is only 23, giving the greater part of 15 years to the best of his contemporaries on both sides of the Irish Sea, Paul Townend excepted.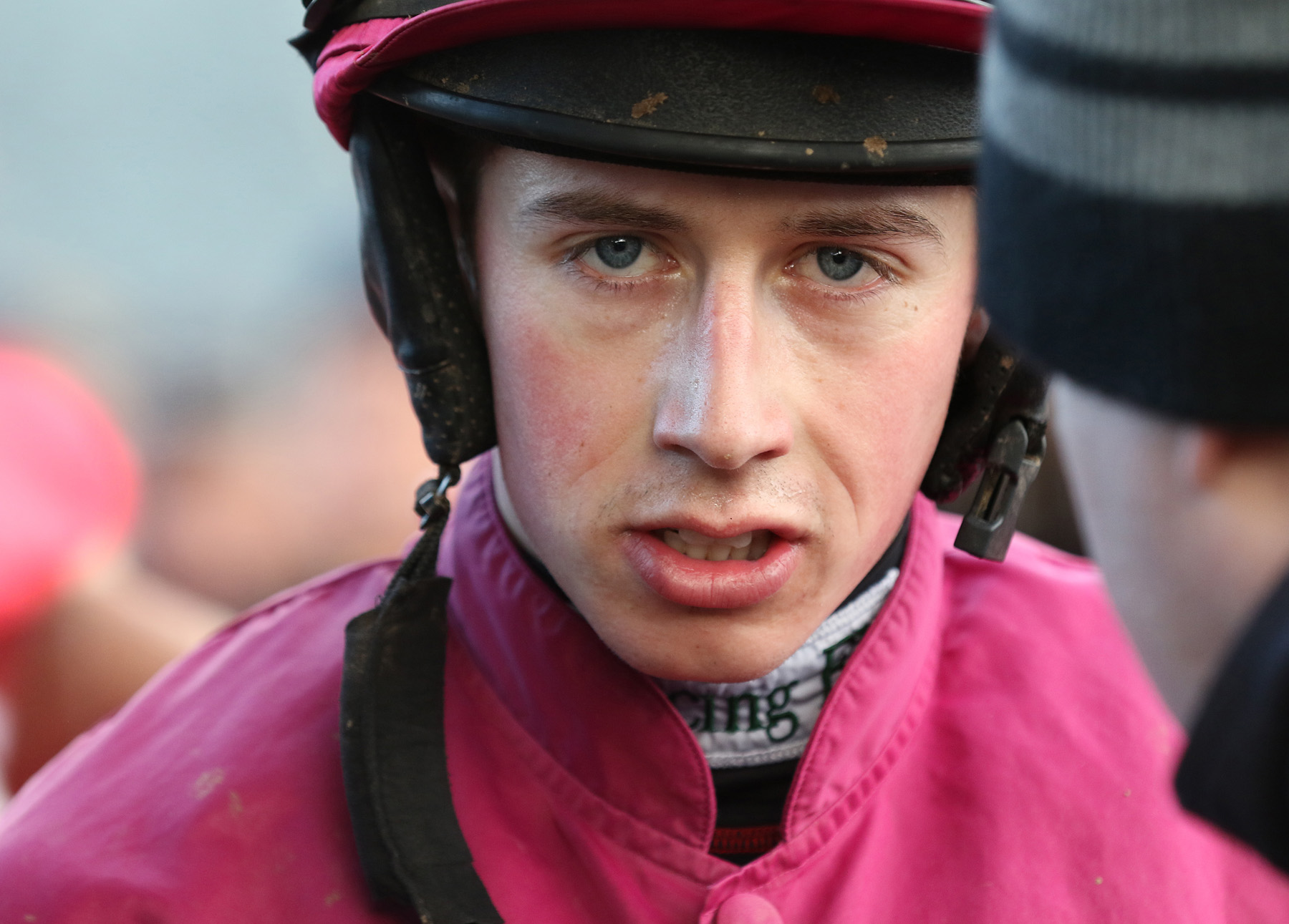 (Photos: Caroline Norris)
He has packed a remarkable amount into a very short period since riding Rossdara, trained by his father Tom, to record his first win on October 29, 2009. Cliché merchants (Heaven forbid) might describe it as a rollercoaster, given the polar extremities of his fortunes.
The three Cheltenham Festival successes on board Benefficient, Our Conor and Ted Veale in 2013 catapulted him into public consciousness, with the pair of triumphs via First Lieutenant and Special Tiara at Aintree the following month confirming the arrival of a new star.
The Tralee native quickly became the punters' darling and the O'Learys took notice, offering him the job as retained rider for all Gigginstown House Stud horses at the beginning of 2014.
The knives invariably came out as apart from riding plenty of winners, Cooper inevitably got it wrong at times as he learned his trade in the shiniest of glares – a trade where it is impossible to make the correct split-second call all the time anyway. Choosing the wrong Gigginstown horse incorrectly also brought some negative press, ironically so, given that he was the beneficiary on a number of occasions when his predecessor, Davy Russell suffered a similar fate.
Worse was to come though, as he suffered what Turf Club chief medical officer Dr Adrian McGoldrick described as "the worst fracture I have ever seen in a lower limb." When his long-time mentor Dessie Hughes died, he was at a low ebb and the paralysis suffered by his housemate and great friend Robbie McNamara in a fall at Wexford did nothing to help drag himself out of the mental mire.
But a combination of good advice, surrounding himself with good people, growing maturity and some belated good luck on the injury front has sparked the best run of his career, where after Sunday's racing, he was already just one shy of his best seasonal tally of 61.
When No More Heroes bolted up in the Drinmore Chase, he was providing his young navigator with a 21st Grade 1 success. Consider that it took AP McCoy an entire career to tally 84 and it puts such an achievement into particular perspective.
Ironically, McCoy's last top-flight success came in the Melling Chase last April on none other than Don Cossack. Gordon Elliott's charge is a probably the most jewel-encrusted of the treasure trove at Cooper's disposal, although there are three other major Gold Cup prospects too.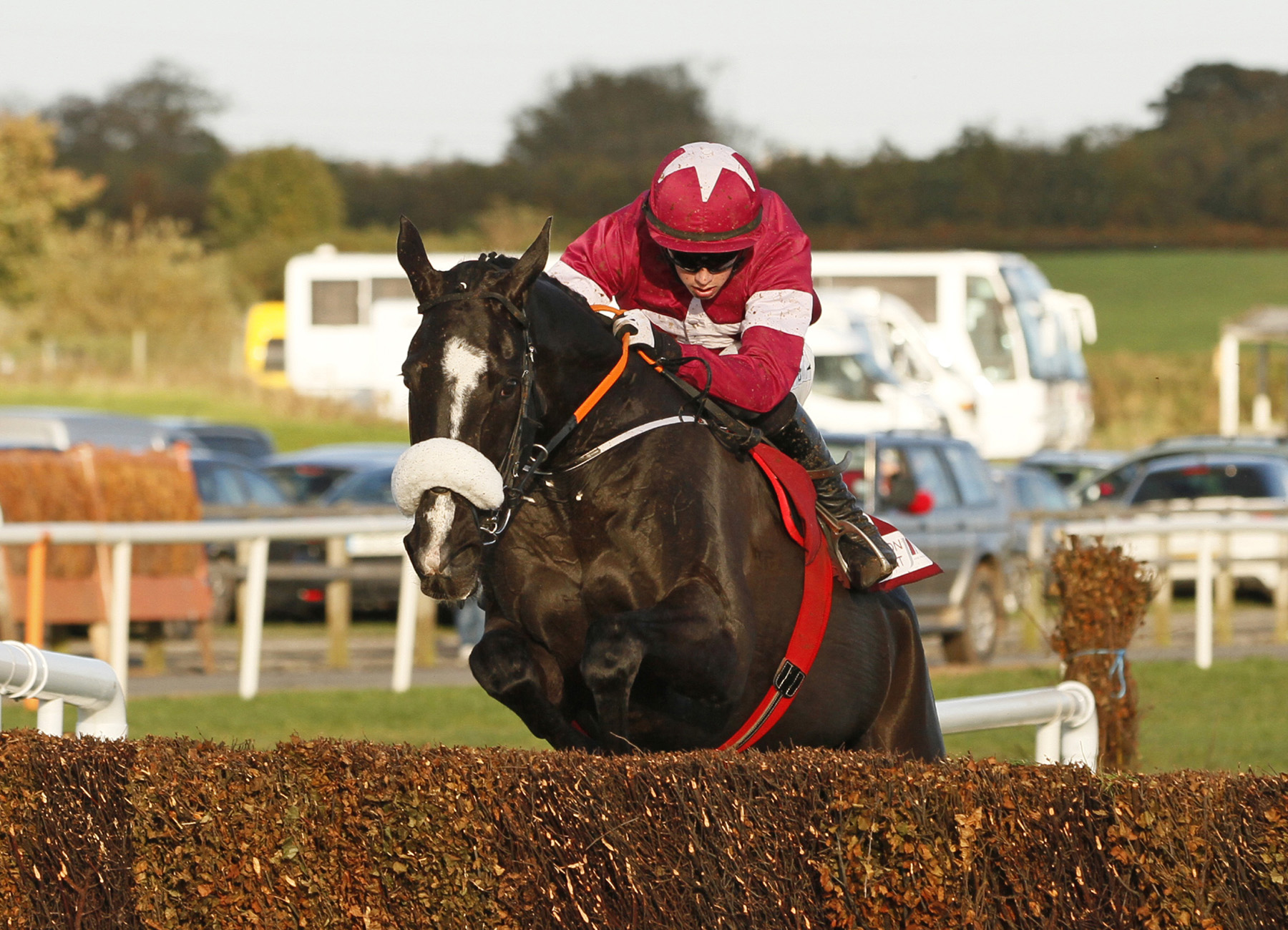 Don Cossack winning the JNWine.com Champion Chase at Down Royal in November 2015
Certainly, Don Cossack is the highest profile of the quartet and while Valseur Lido also looks bound for the King George VI Chase at Kempton, there is absolutely no doubting which conveyance Cooper will be legged up on. With the absence of Coneygree – whose performance in last year's Gold Cup Cooper considers the best he has seen – the eight-year-old is the one to beat.
"Three miles around Kempton looks tailormade for him" says Cooper. "I think he's very special. Bar Cheltenham, he hasn't put a foot wrong. I think Gordon is doing the right thing in going to Kempton and he's the one they all have to beat. Vautour has questions about going that way and will he stay that trip. (Don Cossack) is the only one who's done everything asked of him. He stays, he jumps.
"If you look back to his first run this year at Punchestown, what I was trying to do was not set him alight. When you get him into a jumping mode, he's very good and gains lengths. He's got speed but he's proven he does stay as well. Whether he'll stay the 3m 2f at Cheltenham is another thing, as it turns into a slog, but he's done it everywhere else. He ticks all the right boxes."
Cooper admits that he had lost some faith in the Sholokhov gelding and lays the credit for how fortunes have improved since at the door of the trainer, who's been proven "dead right" in his long-voiced enthusiasm about the horse.
Don Cossack is nowhere near as hard on himself now as he used to and Cooper reveals that that they have learned how to ride him now. There are no concerns either about the suitability of Cheltenham despite a fall on his first outing and the third last March in the Ryanair Chase when favourite.
"He made a bad mistake at a wrong point. Things were just starting to pick up and I went from having the best possible position in the race, in third down the inner, to fifth on the wide outside. It was just one split-second thing.
"Richie McLernon squeezed me out of it in second last – it wouldn't have cost me the win, I wouldn't have got there in time, but I would have been second. I probably should have came around him but you learn from your mistakes.
"Bar that, he fell the year before but every horse is entitled to fall once. I remember before Cheltenham people were saying he was different going left-handed but then he won by 23 lengths at Aintree."
The manner in which he flew up the hill after the last "didn't look great from my point of view" but suggested plenty of determination as well as staying power. Who would he ride if the Gold Cup were tomorrow though?
"It's hard. People keep asking me can you compare any of them but every single one of them is different. Don (Cossack) is classy. Don Poli is lazy, never impresses you, looks like he'll get beat every day. Sir Des Champs was quite impressive in his first run back (after 692 days on the sidelines) and Road To Riches is a relentless galloper and jumper. They're four completely different types of horses.
"There isn't many horses that have done what (Road To Riches) has done. I'd imagine he'll go for the Lexus maybe. If he comes out, he's gonna run a good race. If the Gold Cup was run on Thursday before the rain came he would have beat them all. I still genuinely believe that. He was the one that would have handled the good ground. Djakadam would have ran but mightn't have been as good on it and Coneygree mightn't even have ran.
"I've built a lot of confidence riding (Don Poli). I learnt a lot about him in Aintree. You can't get to the front too soon on him because he'll pull up. Once you can keep on tabs with another horse, you know that he's gonna keep finding. He jumps, he stays really well. He's not slow. He's just more lazy than anything else. But again, he will have to be on top of his game if he shows up for the Gold Cup.
"It's exciting times."
Certainly, the outlook is more positive than when he suffered that horrible compound fracture in his right leg in Cheltenham 21 months ago. His tibia and fibula were broken, bone punctured the skin and there were multiple fragments of bone floating around as well. Having already fractured his left femur, it was incredible bad luck.
"The first time I came back, I flew straight away. I'd 50-odd winners ridden, I got the Gigginstown job in the New Year and I only had it (less than) three months when I broke my leg in Cheltenham.
"That was a bit worse. Lying in hospital, I wasn't sure… at the end of the day, it's a business to Gigginstown. They had no reason to hold onto me. They could have moved on and got someone else because they knew it would be a long time before I was back.
"The hardest part was when I came out of the theatre. I'd an eight-hour operation on the Friday. I looked at the results and saw I'd missed three winners. Even through the pain. You get over the physical pain but it's more the mental pain you have to deal with is harder. A lot of thoughts went through the head then. 'What am I going to do? I'm gonna be out for so long?' It wasn't a fun time to be honest with you."
Michael O'Leary was quick to assuage those fears, promising that the job would be there even if it took a year to return. From that point on, it was about being patient and working hard to be ready.
"My third or fourth ride back was Don Cossack in Punchestown. That wouldn't be long bringing you back into the swing of it again. At that stage, he was kind of forgotten about having had a lot to prove. He bolted up that day. I came back on the 14th of October and absolutely flew. I was riding winners every day of the week. I went from the bottom of the table to third in the space of a month. That's where I was very lucky to have the job."
It is noticeable how Cooper, like all the top pilots, is his own worst critic and readily admits to situations where he could have done better. Unfortunately, too many armchair riders that frequent forums and Twitter demand omnipotence. This is an era unfortunately, where one well known jockey had a death threat delivered to his home via a phone call after a very high profile defeat. Little wonder Cooper, once a regular interactor with the public on Twitter, now uses it merely to catch up on the news.
"From last January onwards, when I started picking a few of the wrong horses, had one or two bad rides, getting beaten on Don Cossack in Cheltenham… I got a lot of abuse but I basically laughed it off. At the end of the day, to me they're people sitting on a bar stool probably drinking and punting their dole money.
"I wrote back to one lad one day with a bit of a rant and said something like that to them. Ruby (Walsh) said to block them, you're better off not engaging them. That was good advice that stood to me. There isn't a day go by where you wouldn't have the odd eejit say something.
"There were times when it would get you down a bit. But the way I looked at it is I was getting beat on one but I was going out and winning on the next one. You just have to put it behind you."
Initially, he didn't feel the weight of having to pick between two or three quality animals. That pressure grew though, particularly when he watched one of his discards flying away from him to the winning post. He admits that there are still "days you go home and just throw stuff around the place" but insists that the O'Learys, Elliott and especially his agent Kevin O'Ryan provide important equilibrium.
O'Ryan came on board as his agent last August but he fulfils a broader role, taking on the position of chief adviser left vacant by the man who had taught Cooper almost everything he knew about race-riding and been his counsellor throughout that development.
"He was a rider himself, he knows everyone and he's very good with the form which is a big help. If you did something wrong he'd be the first one (to tell you). I remember a maiden hurdle in Downpatrick and Ruby outrode me. I rode a horse called John Monash and I should have won. I got caught in a pocket and left myself open. Ruby kept me in, good riding by him. Kevin was the first one to text me.
"You need someone like that. Before Dessie passed away I had him and then you were left on your own. Obviously Dad is very good to me but you can hang up the phone on Dad if he starts roaring and shouting. You need someone there to keep you on your toes the whole time. Every day you go out you need to improve on something.
"It was hard enough (when Dessie died). If you gave a horse a bad ride, you could go back to him and he'd give you confidence. Even when I got the Gigginstown job, he stayed supporting me and gave me first choice of all his horses, which was unbelievable. I probably wouldn't have got the job only for him.
"It was just a big loss not having him there. It was hard enough to deal with because I was there since I was 16. He was like a second father. It probably only really hit me after Christmas as things flew until then, I'd a great Christmas, and then when things got hard, you'd come back home and think 'Jesus, who do I go talk to here?' But you have to get on with it."
McNamara's injury also hit hard.
"It was a shock because he was a good help to me always. I was telling myself he'd be grand, he'd be fine, he'd come around but it hit me then after Punchestown. We still keep in contact. He's only living five minutes over the road so we still have the craic. Obviously I still treat him the same. You don't want to be moping around him. He'd tell you get out fairly quick if you were."
Cooper has written a lot of headlines but was the focus of attention for an unusual reason when he came to Robbie Power's rescue at Gowran Park last month following an incident that could have gone nastily for his weighing room comrade. He was embarrassed by the fuss.
"It's one of the worst things that can happen to a jockey. His foot was screwed… I was trying to get his leg out. I remember trying to lift him up and saying 'Jeez, you're as fat as fuck!' When people came, I was able to get it out but if I didn't catch him he was gone because his foot wasn't just stuck in the iron, it was twisted around the leather. He would have been in a spot of bother. He was very lucky."
Interestingly, with his father struggling for winners, Cooper has a bird's eye view of both sides of the equation when it comes to the debate on the dominance of the few. His father is working on building a new team with a band of young horses but the days of Forpadydeplasterer and Total Enjoyment, who Cooper led up after winning the Champion Bumper seem a distant memory.
He is extremely thankful and not complaining, given that he is employed so gainfully by Gigginstown, but the competitiveness of the game will more than likely put him off training. What he describes a few times as "the job" has given him a real crack at the jockeys' championship, even though Walsh has his own war chest.
"At the start of the year it was an aim to go for the championship. Well first it was to stay injury-free, get a clear run and get through the summer. But it is always in the back of the head because I have that big, high profile job. I've got the best horses in Ireland and England to ride. Look, I won't start thinking about it properly until we get closer to Punchestown but at the same time, it's still in the back of my mind. If you can stay within seven or eight or 10 of him the whole time, anything can happen. But I would love to be champion jockey."
PANEL
Identity Thief
"We were going into unknown territory (in the Fighting Fifth). I rode him in the Deloitte last year after he won his maiden hurdle at Christmas in Leopardstown and I thought he'd win. I always had it in my mind that he was a very good horse. He's probably still going to have to improve another good bit to be good enough to beat the likes of Nichols Canyon and Faugheen but there is a spot there to fill in the places. Besides them two, it doesn't look as strong. Our lad is only five, so he's going to improve. He's definitely worth taking his chance in the race."
No More Heroes
"He's been very impressive. We always thought he was gonna be a chaser. What he did in Fairyhouse was very good. He jumped really well. He stays forever so the step up to three miles won't be a problem but I think we saw a horse last week who could really trouble him. That's Pont Alexandre. I think he looked really special and if he comes back as good the next day, he could be the one to put it up to him."
Novice hurdlers
"Tombstone looks pretty smart from the time he won his bumper. Tycoon Prince will be fine. He's a big, big horse. A chaser. Whatever we see him do this year, it'll be a bonus. He won't be knocked about. But I think Tombstone has a big future and looked very smart in his maiden hurdle. He might go for the two mile at Christmas and see if he is a two-miler. If not, we can step him up as he stays as well. Petit Mouchoir was quite impressive as well but of course they can all be impressive in maiden hurdles. They have to step up because the novices are so strong."
Alpha Des Obeaux
"He's gonna stay over hurdles so I'd say the three mile race at Christmas will be right up his alley. He'll improve a lot from his first run when he was second (to Arctic Fire) in Fairyhouse. He ran a cracker. We left him open to plenty of improvement. There's a big opening for a nice horse in that division 'cos there's nothing that stands out. If you look back at Alpha's form, it's probably as good as any novice around. He was second to Douvan, second to Black Hercules and second to Nichols Canyon over two miles, two-and-a-half and three. He was a horse form Day One when I sat on him in Gordon's as a four-year-old that I felt had a big future."
This article was commissioned by and appeared in The Irish Field in December 2015.
Categories: Horse Racing, Flagged
/