Shopping Basket
Your Basket is Empty
There was an error with PayPal
Click here to try again
Thank you for your business!
You should receive an order confirmation from Paypal shortly.
Exit Shopping Basket
| | |
| --- | --- |
| Posted on 6 July, 2017 at 0:25 | |
"Someone told me when the time is right to give up you'll know and that's what I've gone on. It never crossed my mind this winter but you do take it year by year. There's no point saying I'm going to be there for the next 10 years. I'm not!"
Kate Kelly, 2015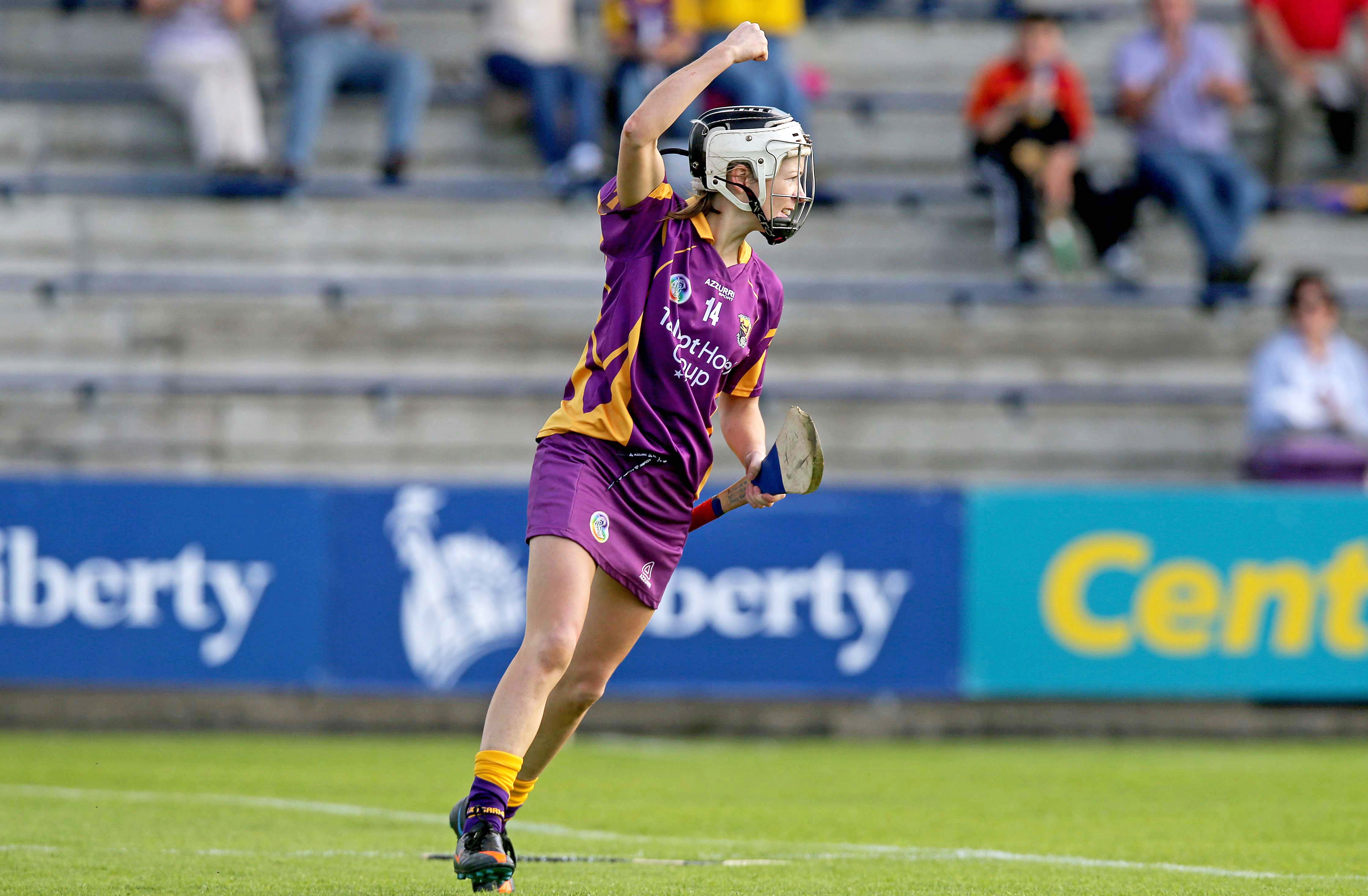 "You think about it a lot more too when you're older. You think about whether it might be your last game. You get a little more emotional, a little more worked up about it" (Photos by Inpho)

THE support on her wrist is an irritant with the club championship scheduled to get under way on Monday. She got a bang that has taken a week for the swelling to reduce and been told to come back for an x-ray. It will wait until Tuesday.
This is a woman who has wrapped a broken finger in lollipop sticks to play, who even tried to go out in a 7s match with her AC joint in ribbons. She couldn't strike the ball so it was a full-forward, catch-and-hand-pass job.
She will be at Innovate Wexford Park this afternoon as the Yellowbellies get their Liberty Insurance All-Ireland Camogie Championship under way against Offaly but for the first time since joining up 21 years ago, her role will be as a supporter, to her former teammates and brother John, who is joint manager.
Kelly has been throwing on a Wexford jersey every year since an underage blitz in 1991. Clubmate Emma Carroll sat with her on the bus. Sitting behind them were Claire O'Connor and Michelle O'Leary. Áine Codd was there too. They graduated to become fixtures and leaders on the senior squad, with the next batch of kids calling them The Zimmers.
One by one, they all stepped away but Kelly was as constant as oxygen. As reliable too. An All Star in the scheme's inaugural season in 2004. Player of the Year three seasons later. Last November, a campaign that saw her finish top scorer with 5-49 was rewarded with a record-equalling ninth All-Star.
She pointed a stunning winner to deny Tipperary in the All-Ireland quarter-final but the semi-final ended in defeat, after extra time, to Cork. Kelly landed a free from distance early in the supplementary period to give Wexford the lead. It was to be her last ever score of the 27-315 she would accumulate in 88 championship appearances.
"I didn't feel my game changed a whole lot" says Kelly sitting in the canteen at WIT where she works as IT and card services manager. "More than anything it was the recovery. I found that a bit harder. And last year, motivation to go training. When the games were on, I loved it as much as 10 years ago.
"You think about it a lot more too when you're older. You think about whether it might be your last game. You get a little more emotional, a little more worked up about it. You have to learn to manage your nerves a bit more.
"In saying that, I always enjoyed it so once you get out on the pitch and you're over that first few minutes, as (former manager) JJ (Doyle) used always say, 'Express yourself'. When you're out there and into it I don't think you think of anything else."
It is telling that she had tried to slip away quietly. Kelly informed the players a month ago and wanted to leave it at that but she underestimated her status. The queries were coming thick and fast and so a statement was issued. What happened next took her completely by surprise.
"I was very overwhelmed by the reaction, which was quite touching to be honest. I didn't expect it by any manner of means. It was mixed emotions, people congratulating you and also commiserating. They don't know really what to say and I didn't know what they should say either!"
She had never been one for taking stock and seems to have been completely surprised that anyone would care that she was calling it a day.
"Maybe in five or 10 years' time we'll sit back and realise what we achieved when we did but at the minute it just feels part of what we're doing, trying to achieve again" she said in this interview two years ago that also contained the introductory quote to this piece. Now?
"Maybe I just didn't like to get carried away with myself. I just played. If you get carried away with what people are thinking or saying about you, that you're this and that, it only adds more pressure if you're going out the next day to live up to something. So it's easier maybe to block it out."
In truth, she is being asked to explain something she never thought about it. It was simple.
She just played.
****
PEGGIE Doyle won All-Irelands with Wexford alongside her sister Mary in 1968 and 1969. Seán Kelly was like-minded in that he lived for Gaelic games. They fell in love, married, settled down in Screen and had nine children.
Kate recalls a simple but idyllic lifestyle around the farm and they all played. Even now, there is only one of the lads that doesn't tog out anymore. The eldest, Denis, is 42 ("he won't give up!" ) and coming off a brilliant year with the juniors. The youngest, Joe, is 27 now and scored 2-7 when the Shels won their first county senior championship in 2014. Mag played with Wexford too.
"My Dad was fanatical and my mother won two All-Irelands with Wexford. And we always played in the yard. There was the gate and a pillar across where we made two goals. We were just constantly going to matches. If we couldn't all fit in my father's car the rest went with my aunt, who lived down the road and had two sons, so that was packed too.
"Growing up, wherever we went… if we went to the beach, we brought our hurls. Even if you went walking across the field, you always brought your hurley with you – you might need it to knock down something to walk through!
"This time of year, silage season, when all the lads would be in and after they got their dinner, we'd go out for a big puckaround in the yard. It used to be crazy."
Peggie has filled every role in administration between county board and club committee, and is currently secretary of the GAA club. She has also served as selector and manager at various levels and was involved in the establishment of the camogie club.
"She hurled with the likes of Oylegate and married into the Shels and has been involved in every way. I'd say she's done every role. She was chairperson for years, over us as a team and my father was over us. That was their hobby. That was what they lived for. I don't ever remember doing anything else. We never did any other kind of hobbies. Maybe there were just too much of us and it was easier to bring us to the hurling field!
When she got the call-up to the senior panel, Wexford were coming off three All-Ireland Final losses in the previous five seasons and the team was breaking up. Meanwhile, that same year, the hurlers had everyone dancing on the crossroads.
"We used to go to all the games into Wexford Park or Croke Park. And when you got old enough to travel yourself you were working out whether to go on the train with friends. We're having the banter about it now that the buzz is back around the hurlers. We may get the old crew back together. Four or five in one car, four or five in the next car. There's a whole generation in Wexford that's missed that.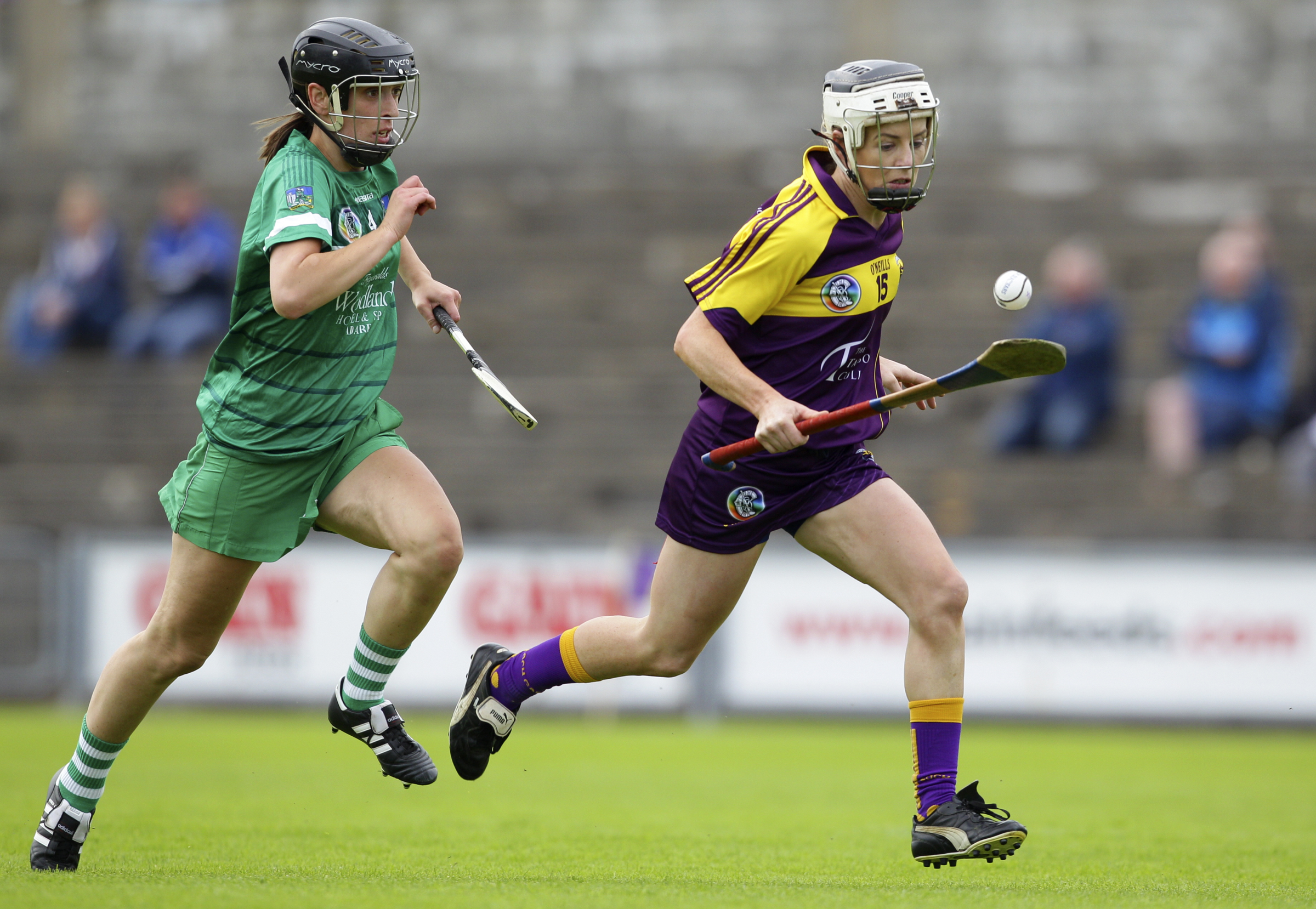 "I remember '96 with my aunt in the car after the All-Ireland, out through the sun roof the whole way home. It was crazy! You look at my niece and nephews. They haven't seen that. But at least they got it on the women's side."
It took a while. Kelly and her compadres were coming off winning an All-Ireland U16 title in 1995 and with not much experience left around them, endured some awful days. The 43-point hammering (7-24 to 0-2) at the hands of Cork in Oylegate on July 3, 1999 was a low point but it didn't sour them.
"You don't think about it. You were just delighted to be playing with Wexford. Maybe I had an optimistic outlook and thought we were gonna win every time. I was never fazed by it. I do remember one year, my mother coming home saying they were thinking of pulling out the senior county team and just having a junior and she went crazy, saying there were people wanting to be over the team and players wanting to play. I suppose there was a few years that it wavered a bit. I don't know what it was. Maybe it was the '95 team, so much of my clubmates there as well. Maybe we just enjoyed the banter of it. It was good craic.
"We went off to Dundalk or Derry one year to play and were staying overnight. We went to the cinema and someone said 'The bus is on fire'. We didn't believe it but when we ran out the bus was on fire! Some great memories. We were hanging out with our best friends, having some laugh."
In 2000, another Wexford team reached an All-Ireland U16 decider and as Mary Leacy and co emerged, so did hope. Leacy was joined later on by her younger sister Úna, who would become Kelly's regular bus buddy. It was fitting, given that the Leacys' mother Margaret O'Leary was a teammate of the Doyle siblings in the late '60s.
They got to a League final in 2004 and another three years later. Cork beat them by a point second time around but rivalries were resumed shortly after in the championship and Kelly hit six points as Wexford prevailed by 10 in Ballincollig. When the teams met again four months later, in the All-Ireland Final at Croke Park, Úna Leacy plundered two goals and Kelly three points to cement the O'Duffy Cup's residence in the Model County for the first time since 1975.
"The semi-final day to me was a great day. Just getting to the final. And the four weeks that came after that… it was like we were floating around on air. I don't think it fazed any of us. And when you look back on our performance against Cork, everyone went out and tore into it, hooked and blocked. They were going for three-in-row and it was our first day in Croke Park.
"All the supporters came out onto the pitch... I remember trying to make my way up through the crowd and I was nearly getting knocked out, people turning around saying 'Who's this one pushing?' and then seeing it was me. It was brilliant."
They were completely taken aback by the homecoming.
"My mother kept saying to me 'You know Kate, I don't' think you realise this is going to be big when you get to Wexford' and I was 'What are ya on about? There'll probably be about 10 people.'
"We came into Wexford and they made us get off the bus and walk over the border. The TV cameras were there. I was like 'Yeah, yeah. Done. Whatever.' So we got into Gorey, we went under the bridge and around the corner and there were people on the sides. We were going mad on the bus saying 'For God's sake, there's a few people after coming out, would you not let us off the bus to get out to them?'
"We went around the corner and the whole street was packed. We couldn't believe it!"
They were unable to get over the line the next couple of years and we wondered if they were one-hit wonders.
"I think after 32 years, it was our dream to come true. I remember still bouncing around on Cloud Nine the following April or May. We went on our team holiday in March and when we came back, people were still wanting us to bring the Cup to places. Maybe unbeknownst to ourselves we were still living in the past."
They were utterly dominant however from 2010 to 2012, completing a rare three-in-a-row.
"There were so many leaders that could step up to the mark. You weren't relying on one person. It could have been anyone. And winning builds confidence. It just is a different mentality. You can understand why Kilkenny (hurlers) kept winning because it's just a confidence thing. You don't see yourself being beaten."
Others are sated by one though.
"I think we were so disappointed in 2008 and 2009 that we weren't going to get caught again after 2010. Everyone was as focussed when they went back. In 2007, it was everything that it should have been. It was magical but it was 32 years built into celebrating. It wasn't that we didn't try the years after, maybe we were trying too hard. But we were lucky we got the opportunity again in 2010."
Kelly was a gifted footballer too, every bit as good as with a hurley in her hand. She won two All-Irelands with the Shels and played in another with Wexford just two weeks after the first time scaling the mountain with the camogie team.
The memories flood back, rushing from the furthest reaches of her mind, each having value and meaning. Losing an All-Ireland club camogie final in 2002, winning the county in 2013 after a lengthy gap. The physical battles with Gemma O'Connor and Therese Maher, Jacqui Frisby getting in the flicks and touches that drove you mad, Linda Mellerick running up and down the pitch like an Energiser bunny, being helpless as Ann Downey dominated.
My, what a time.
****
RETIREMENT didn't come easy, not least because she doesn't feel diminished physically or in terms of ability. Her last campaign confirmed as much. She has just turned 37 though and got married two years ago to Shels man, Chris Gordon.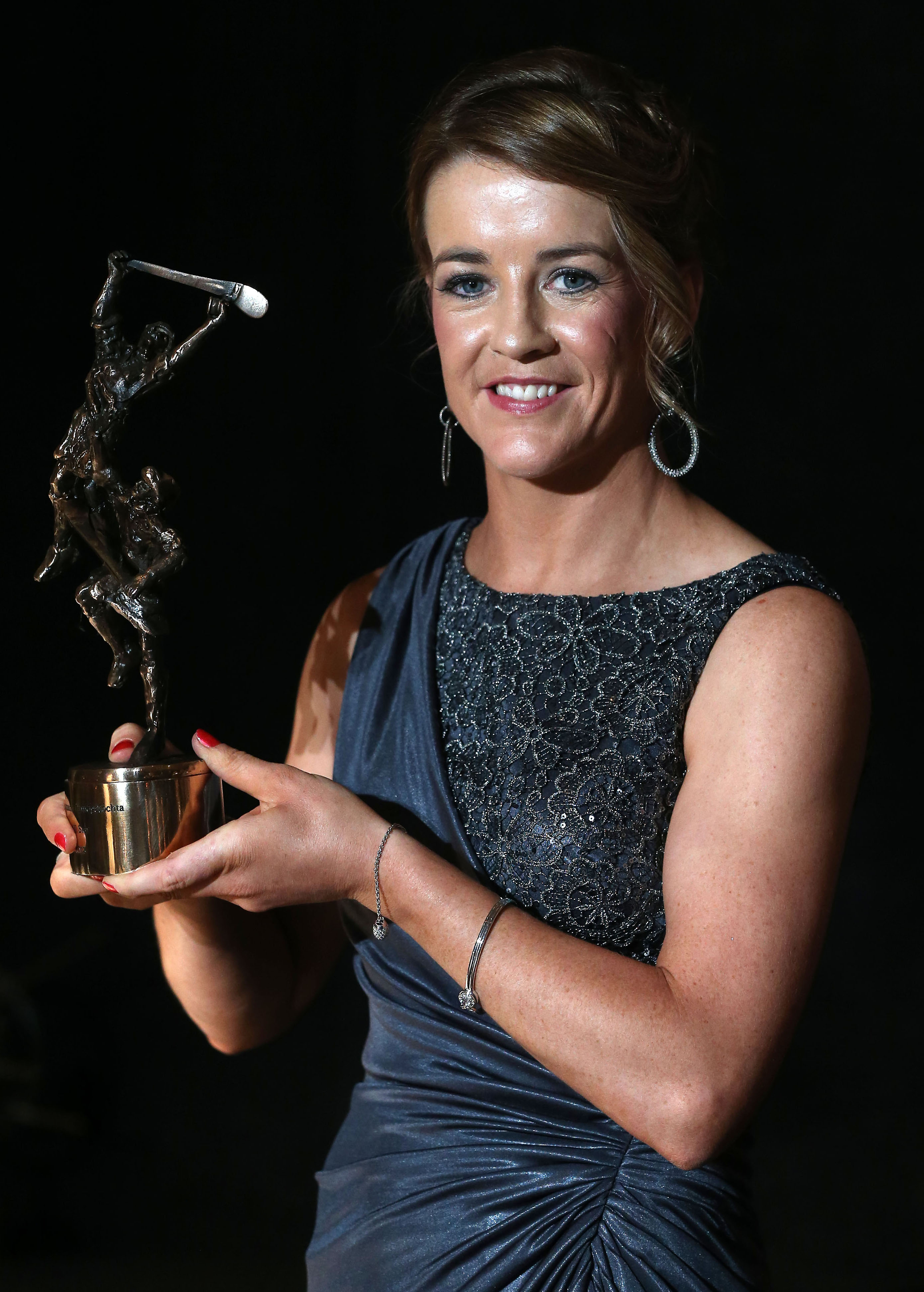 "I just felt it was time to call it a day… wanting to do other things, give it a year or two with the club, seeing how they go through the process. Be more relaxed about it, not be so focussed on nutrition and fitness. And I suppose maybe working in Waterford didn't help. Maybe if I was at home and had a little bit extra time at home in the evenings... it was a culmination of a few things like that but I probably just felt it was time.
So much has changed in 21 years, when mobiles were homes and there was no social media. Training meant laps and backs and forwards. Now it's gym work, DEXA scans, nutrition, recovery. She embraced it all – anything to get better – but it takes over your life.
"I never really saw it like that. Maybe I wanted to see what was on the other side before I had family."
Kelly has 14 nephews and nieces. More grandchildren for Seán and Peggie would be nice.
"Hopefully. I'd like to have kids. We'll see what happens."
She is treasurer of the WGPA and believes giant strides are being made in terms of the treatment of players and the profile of camogie and ladies football. Meanwhile, she coaches the club U18s and will always be involved. She has known nothing else.
What will she miss?
"The big day I suppose and the excitement of getting ready for the big match. Throwing on the purple and gold jersey. The high level of competition and playing at the top is huge. And obviously the county girls. Now I'll just go back to fighting with them all the time! But it was great going out fighting against other counties together. You'd have to say I played with some of the best players and you'd miss that. You'd miss playing against some of the best players from other counties too.
"I always thought I'd like to get to Croke Park and then I'll give up but it just slipped away. I tried it for four years. I should have given it up at the three-in-a-row! But I never even contemplated it.
"I've done some miles around the country playing matches. Some enjoyment."
You had a good run.
"I had a great run. Yeah."
She hasn't looked through the scrap books she and her mother have kept from the start lately, or watched any old videos or DVDs.
"I'm kind of avoiding it. It is kind of emotional. You're giving up something you've always done and always known. It's just a big change. Even the game next Saturday, I'd be a bit apprehensive about going.
"It's just been a way of life. It's just been something I've always done so it's hard to imagine that I'm not going to be running out with them. Maybe it's a bit raw."
It's tough.
"It is tough."
Her eyes have moistened considerably now, giving you the deepest, most human indication of how difficult the parting is. More than any words.
"When people say it was a sacrifice, I don't feel that's how it was. It was something I loved doing."
This article was commissioned by and appeared in The Irish Examiner in June 2017.
/