Shopping Basket
Your Basket is Empty
There was an error with PayPal
Click here to try again
Thank you for your business!
You should receive an order confirmation from Paypal shortly.
Exit Shopping Basket
| | |
| --- | --- |
| Posted on 14 July, 2017 at 20:00 | |
LUKE WADE is an 11-year-old from Old Parish, Co Waterford who is entranced by football and so you would expect his favourite footballer, apart from his father Seán, to be Colm Cooper, Bernard Brogan, Seán Cavanagh, Michael Dara Macauley, Stephen O'Neill, Colm O'Neill or Michael Murphy.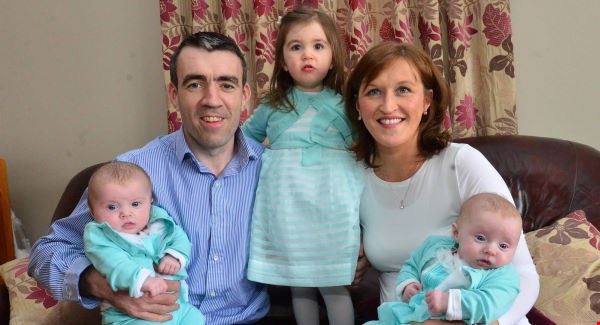 Johnny Doyle with wife Siobhán and his three daughters (Photo by Adrian Melia)




Not Luke. Luke downloads photos of Johnny Doyle on his aunt's ipad and has a Kildare jersey with the Allenwood totem's name above the number 13 on the back. This week, amidst all the hoopla surrounding his retirement, Doyle made the kid's year by autographing that jersey.




That pretty much encapsulates Johnny Doyle's appeal. He was more than a footballer with skill and talent. He was a guarantee. You know exactly what you were getting. Every drop. Not just in the game, but in the preparation. He did it right and was acutely aware that he was just a player in bigger game.




He did it for himself but he did it for others too and not just those close to him. The responsibility he felt was his essence, woven into his fabric as a result of his early years following his father, Harry around in the Allenwood dressing room, and the treasured memory of running onto St Conleth's Park as mascot when the Blues won the intermediate championship in 1991; 13 years before giving a man-of-the-match performance on the same pitch when an historic first senior title was annexed.




Sharing a bus with Harry, Pat Mangan, Ollie Crinnigan, Liam Balfe, Tommy Carew and co when Kildare won the Over 40s All-Ireland left an indelible mark, as did the depth of emotion and connection he felt to the All White cause when Mick O'Dwyer called up his cousins Dermot and Ken Doyle.




Jennifer Malone was one of the many visitors to the Kfm studio on Tuesday morning, when a planned hour-long tribute show overran by 30 minutes such was the depth of feeling Doyle's retirement had stirred.




Regular visitors to St Conleth's Park will recognise Jennifer, a girl with Down Syndrome who is invariably in amongst the players as they do their post-match cool downs. You'll notice a trend here, but Johnny Doyle is her favourite footballer.




When she came into the studio to present her hero with a bouquet of flowers, she was heartbroken that she would never see him in the Lilywhite jersey again. She hugged him fiercely and took some persuading to let go.




"People talk about what it means to play football and what it means to represent your county" he began as he attempted to explain his jumbled thoughts. "The first person that runs out onto the field for a number of years is Jennifer.




"I consider myself lucky to have represented Ireland... But I never forget coming out with the Cormac McAnallen Cup under the Hogan Stand and the security guard came in and said 'There's someone here to see ya' and I got my picture taken with Jennifer. To me that summed up what it meant."




It's just important to him, even in an era where he acknowledges players are more removed from their supporters because there is less in common. Unless you've experienced it, you cannot comprehend the sacrifice, the commitment, the pain, the injuries, the fact that you've never had a summer holiday for 15 years. You'll say you understand, but you don't know.




Yet while he learned to be selfish in terms of being as prepared as he could be for Kildare – often, to his heartbreak, at the expense of his family and club – it was a form of selflessness too.




"It's important that you just didn't go out there to represent yourself" he says, sitting in his jeep four hours after the radio show. "You were representing people you never even met. And they got a kick out of it, all over the world.




"I remember reading a book and someone said to Seán Lowry, before what was probably the biggest game in the history of the GAA (the 1982 All-Ireland football final) about the importance of representing. Offaly people will stick their chest out in New York, Offaly people in Australia will have a pep in their step in their morning and their dreams are on your shoulder.




"It is something that has stuck with me for a long time."




It explains a lot. Doyle came home many times as a young lad and threw his gear in the corner saying he was never going to play again. But the setbacks helped shape him and gave him context.




He didn't make the Kildare minors and was on the fringes of the U21s. He recalls not being picked for the first round of the championship against Wexford in his last year at the latter grade and crying in his car. His great friend, Dermot Earley came out and told him it would work out.




"You get over those disappointments and you just go again. You go again. You learned that it worked today and for some unknown reason it mightn't work tomorrow and you just have to put the head down and keep working at it. That's all I ever knew."




So he continued to give it everything and he improved as he got older. Continuously. Better at 25 than 22, better at 30 than 25, better at 32 than 30. That takes doing.




Being Johnny, he'll be quick to say there was a lot of luck along the way, a few breaks. He was "stunned" when Mick O'Dwyer "pulled the rabbit out of the hat" and picked him for the 2000 senior championship, little more than 12 months after that U21 devastation.




"I couldn't believe it. I actually thought he meant Ken Doyle."




There was a Leinster title the first year and the only other silverware garnered at inter-county level was a Division 2 medal – he was captain – and a few O'Byrne Cups. But he swears that he didn't take anything for granted after that memorable debut season. And he is certainly in no way bitter.




"I never in my wildest dreams thought I'd ever sit in a Kildare dressing room let alone lead them out in an All-Ireland final or Leinster final. I just worked hard at it.




"I don't know if there is such a thing as a natural footballer. I remember talking to Mickey Harte about Stephen O'Neill and he said he works extremely hard. They say the same about the Gooch. He just works hard.




"It was the same with Pat Spillane. People saw the end product of all his work but didn't see what was going on. Reading his book, he was probably the most unnatural footballer but he just put himself to a new level. And that was always in the back of my mind. You can be what you want to be."




Not getting any major injuries certainly helped. From the day the 10½ stone waif stepped out in a No 11 jersey that was about three sizes too big in a Leinster quarter-final against Louth at Croke Park on June 11, he never missed a championship game, with last year's qualifier defeat by Tyrone his 67th.




Between league and championship, he played 154 times, with only four of those as substitute. Two of those substitute appearances came as Jason Ryan aimed at easing him back this term.




After not raising a flag in the 2000 All-Ireland semi-final, he scored in 50 consecutive championship games until the 2011 All-Ireland quarter-final. He'll tell you there were a fair few times when he only got "a few handy frees" to keep the run going. What he won't say is that a number of those frees were awarded for fouls on himself.




It was remarkable durability. He reckons his father was tough – "Harry never advertises pain" - and maybe some of that rubbed off on him. It makes sense, because Harry was the greatest influence on his career and telling him that the Kildare journey was over was the most difficult part of the entire process.




Ironically, he reckons that having stressed for so long about not being able to bulk up – he finished off at 12½ stone and Kieran McGeeney used to shake his head in disbelief when considering how such a fairly standard weight was in fact a two-stone increase on when he started – his frame probably contributed to his longevity and endurance.




It wasn't that he never got hit – "I was probably too slow to get out of the way" – but it was never anything bad and never anything he couldn't handle.




McGeeney said during the week that Doyle was the epitome of the culture he wanted to instil in Kildare. But ultimately, it was what drove him that prompted him to call it a day in the end. When the motivation wasn't there to the power of infinity anymore, he wouldn't have been true to himself had he held on. Even if he could do it to the power of 100, even though he thinks he's still good enough to make the team, he would feel like a hypocrite if he wasn't going as hard as he once did.




"For the last five or six years when you'd be beaten in Croke Park the next question would be asked 'Is that it for Johnny Doyle?' and I'd say 'Lads, you'll be right one of the years'. And there was never any doubt, even though I might have visited that some years, 'Can I give any more?' Really and truly, there was never any doubt, I was always going back.




"This year, when Geezer finished up, I was thinking with Jason coming in, it's probably time. A new brush sweeps cleaner. I spoke to Jason. As soon as he was happy he was taking the job he rang me and met me and said 'Go away and do what you have to do. Don't make any announcements. You might feel one thing now but maybe after Christmas you'll feel something else.'




"And if I'm honest, there was a bit of me that felt he could maybe do with some experienced lads and I wanted to give him that support. Because in fairness I'm a Kildare man, he's a Waterford man, and we're asking him to do a job and he should get support from the supporters, from players, from county board, the Supporters' Club. He's been brought in to do the best for Kildare and there's no doubt about it he will strive to do that.




"But the big thing for me was I preached for a long number of years about the importance of it, the responsibility. It wasn't just when you went out on the field, it was everything you did away from the field. The way you conducted yourself in public. You weren't just letting yourself down by stepping out of line, you were letting me and everyone else down because you were a Kildare player. And that was important to me.




"You tried to instil that, especially in the younger lads coming through. If you are taking the responsibility, you take it all. You don't come today and say 'yeah, that suits me, that doesn't'. There's a big responsibility putting on the jersey and I preached that for years.




"When you can't give that commitment – and I was certainly one that tried anyway to lead by example – when I felt I couldn't do that, it was time for me to go."




Already with a two-year-old daughter, the Doyle family grew by two at the end of last year when Johnny's wife, Siobhán gave birth to twin girls. That was a factor but not the big one. As it happens, Siobhán persuaded him to return to the fold, so that there would be no regrets.




"You have to have that drive, you have to have that hunger, you have to drive the people on around you. When I went in there, Glenn (Ryan) was full of enthusiasm, Anthony (Rainbow) and Willie (McCreery). You looked up to them and fed off them as well. You don't realise that people probably do the same off you now.




"If you thought for a split-second Glenn was losing faith, or Willie, or one of the guys, sure you were bet. You fed off it. They might have thought it in the back of their mind but they pushed to the bitter end.




"If that is compromised, I wasn't doing myself, the management (any good) and I was certainly letting down the players."

 

It isn't that it wasn't there; it just wasn't there to the same level. It was on the wane.




"There's no doubt about it, it was. I didn't want it to and I mulled it around in my head a long time. It's funny though, making the decision was the hardest but once I had it said and happy in my mind, it was easy. The clouds dispersed a little bit and you were happy with that decision."




He didn't want to overstay his welcome either and have the decision made for him, not that this was likely under Ryan, who told him he wanted him to play and just planned on easing himself in. In hindsight, the fact he'd even been willing to consider such a process was a sign.




McGeeney revealed on Tuesday that he had hinted at a similar routine one year, suggesting that as he got older, the legs had to be minded.




"Don't worry about my legs" said an insulted Doyle.




This was the man who responded to a McGeeney text gently slagging him for being beaten in a 150m sprint by Eoin Doyle (13 years his junior) in pre-season training for 2013 with the firm promise that it wouldn't happen again. It didn't.




This was the man described by Eamonn Callaghan as the hardest working player he'd ever known. But the fire was beginning to dim.




"I've always said that. It's the stage and when you get on and get off. I was on it a long, long time and I was privileged to be there."




So he told Ryan Thursday night and the manager expressed the opinion that it was a premature call, but respected it. Ryan asked him to hold on until Sunday and Doyle appreciated the gesture. He refused to tell the players or make any announcement before the game though. He didn't want emotion to affect what was an important game for the squad in terms of rebuilding confidence, and preparing for the championship. And he's not one for fuss anyway.




"I got 10 minutes at the end of the game and I enjoyed that. Bar the family and a couple of close friends in the stand, nobody else knew. I got satisfaction, slipped away on my own and it was nice."




Some sections of the Kildare support still pining for McGeeney made an attempt to read something sinister into the announcement, hinting at a disjointed camp, or a badly-organised one. That agitates him. Nobody was more publicly vehement about wanting the Armagh man to be kept on but he doesn't see virtue in allowing any residue of bitterness from that saga to impact on the future.




It's like his response to the number of times he heard that it was now or never for Kildare. All he could think of was that if the 15 lads there dropped in the morning, there'd be 15 more to take their place. Something bad happens, you move on. You go again.




So no, he's not downing tools because he's disgusted with the set-up or because Kildare are going nowhere. And certainly not because Kildare have been relegated in the league, an experience he has endured on a number of occasions and survived just fine.




"Jason Ryan deserves a lot more respect than that. So do the players. All I can do is state the way it was. It's up to you to believe it. If you want to believe it you can, if you want to make something else of it sure there's nothing I can do.




"But there's no way it was anything else. It was just my time. It just happened to be that Jason was there. It could have been still Kieran, or it could have been Kevin McStay or whoever else might have got the job.




"We're relegated and that's unfortunate. It's not the first time and it won't be the last time. We won a Leinster title in 2000 after being relegated so it's not the be-all and end-all. There's a lot of good lads there, a few lads coming right back from injury, mad keen to play football and I don't think it's as gloomy a place as some people think it is."




There were so many good days, even on the bad days.




"You just took every year as it came. You'd bad years and you sat in Neeson's on a Monday, gave out, did a bit of bitching. But then you'd go back to the club and the itch comes again."




The highlights reel will include numerous double-digit scoring contributions – he was leading scorer in the championships of 2008 and 2010, with the latter campaign providing him with his sole All Star.




They should also show the multitude of lung-bursting 80m runs back towards his own goal to force a turnover, although they probably won't. There were the trademark points that started with a dummy solo on his right and a left-footed finish. The sensational score against Dublin in the 2009 Leinster final, with his head swathed in bandages.




For this writer, the ultimate was the catch in the dying throes of the 2010 All-Ireland semi-final. Down were winning by two points and Doyle told the Kildare goalie – his clubmate Shane McCormack – to send the kickout in his direction.




A slight, just-about six-footer up against Kalum King, the behemoth kickboxer, and a flurry of other bodies. No contest. Doyle soars and fetches cleanly. (12.05)




"I said to Shorty, float it out there. I don't know what… you were just in the zone. We were after getting back into it a bit. Coulter's goal might have sunk us but the lads battled hard. We lost Darryl Flynn in that game after getting a bit of a belt so with him and Dermot gone, we were without our first-choice midfield. So I just said to Shorty 'just put this one out to me' and in fairness to him he did and I was lucky enough I ended in the right place at the right time."




Yeah, luck.




He was fouled and Kildare got the ball upfield quickly. From another free, Rob Kelly's thunderous drive was finger-tipped onto bar by King. There would be no fairytale, no realisation of the dream he harboured while shaping his frees over the hedge onto the gable end at home, and breaking the odd window along the way.




He says now that they sold themselves short in that 2009-2011 era in particular and believes that had Dermot Earley been available, and in the form he had shown the previous year when free of injury, they might have gone all the way in 2009.




It wasn't to be and the pain seeped out, just as it had done 10 years previously in his car after being left out of the U21 team.




"We were so close. I kicked a lot of ball on my own, up at the school pitch behind the church in Allen. You played your county finals up there on your own, kicking the winning free to beat Sarsfields or kicking the winning penalty in a Leinster final.




"Jesus, we came so close to getting to an All-Ireland. If the truth be known, I was thinking about what I'd have said in an acceptance speech, what it would mean and I suppose the emotion poured out of me. Looking back on it, it's probably a bit embarrassing. It bucketed out of me. What can you do?"




As for the future, Doyle thinks of something a friend said about thinking he'd save €100 a week when he gave up smoking but instead just found the money went elsewhere. So it will be with hist time.




The GAA will be involved, that's certain. First and foremost, it will be playing with Allenwood. He feels he owes them as not once did anyone say anything as he agonised on a sideline while the Blues lost key games such as a relegation play-off by a couple of points, knowing he could have made the difference.




They slagged him, of course, when he showed up for training. "It must be championship week" rang in his ears, even if it was Christmas, but that's the life of the county player and he always enjoyed the banter. Now, he's looking forward to giving back to the tradition that founded him.




With three daughters, he could find himself involved in ladies football – and make no mistake, the girls will be encouraged to play.




You'd think Noel Mooney and co will be in touch at some juncture, in a bid to get him involved with the development squads.




The only problem for Johnny is that he's not good at saying no and there are only 24 hours in the day. But he'll manage, and he'll smile doing it.




On Kfm, amongst the many callers was Phyllis Fennin, mother of another great friend and long-time colleague of Doyle's. Tadhg and Johnny won an All-Ireland medal at Kildalton Agricultural College, with Fennin a star of the Leinster championship winning side in 2000.




Doyle often woke on the Fennin sofa to the smell of a fry wafting from the kitchen and has remained firm friends with the family.




Phyllis read out a poem she had written and the final line was the most appropriate, particularly in light of what Doyle had said in a Q & A in November 2000, when asked how he thought he might be remembered.




The answer?




"As someone who gave everything for club and county on the field and was a good friend off the field"




Phyllis knows her man and that's why she concluded with the following.




"This is not the end, because Johnny Doyle will remain everyone's friend."




He made Luke Wade's year during the week and the autographed Kildare jersey will be worn all summer in Waterford. Jennifer Malone will always want to hug him. That is the soul of the man, it is his legacy. He didn't win an All-Ireland but he is fine with that.




"I said in a meeting one night, 'I'm fucked up with listening about '98… time we made our own history.' We got close. Unfortunately we didn't get there. Sometimes the journey is as good as the destination.




"Obviously the history books will say you never won an All-Ireland medal but if you had one in the morning, maybe it would be in a picture frame or in the wife's jewellery box. It isn't the medal in itself. It's the memories, the friends you meet along the way and I have all them."




No better buachaill.




An abridged version of this article appeared in the Irish Examiner in April 2014.

0

/