Shopping Basket
Your Basket is Empty
There was an error with PayPal
Click here to try again
Thank you for your business!
You should receive an order confirmation from Paypal shortly.
Exit Shopping Basket
| | |
| --- | --- |
| Posted on 9 June, 2017 at 10:15 | |
ANNA FARRELL has noticed a transformation towards camogie among the general public in Kilkenny. It had been difficult to gain any traction while the hurlers were dominating the landscape. Failing to get the job done themselves didn't help but performing in the margins is the ultimate barrier to establishing a profile.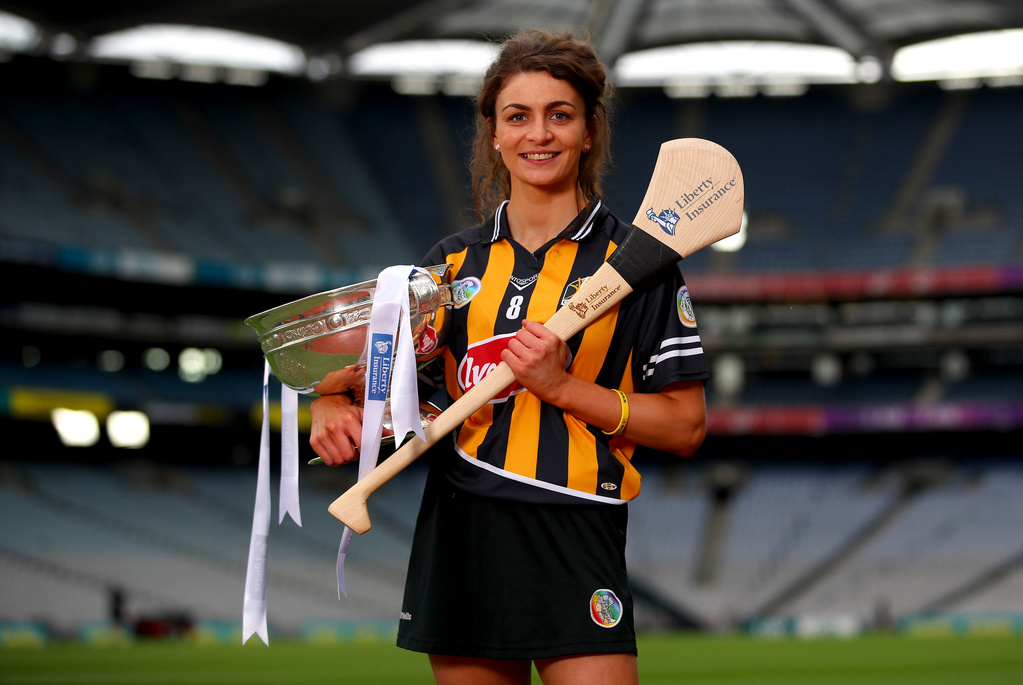 Last September, the Stripeywomen finally bridged a 22-year gap but by then, Farrell had already seen a change.
"I think the television coverage of the semi-finals last year really put camogie on the map" says Farrell. "There were two great games, both went to extra time. Our game was so high scoring.
"Kilkenny were playing Waterford after us and we had a big crowd coming in and ever since then there's been a lot more talk about the camogie in Kilkenny. We need that. We need to have the younger ones coming into us in the next few years. There seems to be a lot more interest than there was previously."
Double headers are vital she maintains, for exposure, parity of esteem and performance levels.
"Unbelievable. It changes the way you're playing. When we heard those Kilkenny hurling fans coming in, whenever we got the ball there were roars. You never see that in camogie. It drove us on even more. We were in extra time, the legs were starting to give out but when you got that extra roar from the crowd, we just wanted to finish it off. It just gives you such an adrenaline rush. I loved it and hopefully we can get more of it."
The 25-year-old succeeds Michelle Quilty as captain this year after Thomastown annexed the county title, following up with provincial honours. She is fulfilling her duties at the launch of the Liberty Insurance All-Ireland Camogie Championship, which gets under way next Saturday.
The form is good, not least because she is healthy once more, having missed the successful National League campaign with a shoulder injury.
"There's so many people that have been injured and new girls coming in playing unbelievable and taking your spot. Coming back now, I'm wondering where I'm going to slot in. Training is unbelievably competitive and that's what drives you on. You have to be better to make the team. We might not have had the competition before."
VIDEO Kilkenny captain Anna Farrell on what the Cats expect in the @LibertyIRL All-Ireland Championship https://t.co/zydRsNmmXs #RaiseTheBar pic.twitter.com/WJ5dLbap2z

— Camogie Association (@OfficialCamogie) June 8, 2017



Clubmate Jenny Reddy is one of those that have stepped up to the mark. Reddy is Farrell's midfield partner with Thomastown, and is engaged to her cousin.




Family is important. Helen and Martin Farrell have adopted most roles with Thomastown, taking teams and committee roles. Martin oversaw the 2014 championship victory, Thomastown's first at senior level in 57 years. Helen is secretary.




Since 2014, Anna has had sisters Shelly and Meighan alongside her with Kilkenny. Eimear was involved in the club triumphs, despite being just 16, as were cousins Ciara and Aoife. The only boy in the clan, Jonjo is a two-time All-Ireland winner with Kilkenny. There is only one topic of conversation at the dinner table.




"We never had very much trainers with the (camogie) club only my mam and dad. It's always been in our family. They absolutely love hurling, they wouldn't miss a game. It could be an U14 match they'd be down watching it. They've trained us and they've pushed us so hard. They're always harder on their own but it made the three of us try harder and do more. Everyone says that when you're playing with the county team, you have to treat it like your family but it's absolutely brilliant to have your sisters there with you.




"If you see somebody pulling on one of your sisters it's like a red flag in front of a bull, you absolutely lose it altogether" she says laughing.




"Sisters are probably harder on each other than anyone else. It's absolutely brilliant to have them there though because you know they'll always have your back anyway, no matter what's going on."




The bull reference is apposite given Helen's interview on Morning Ireland the morning after the All-Ireland.




In it, she revealed that the girls were leaving for training once when their father told them they had to help get two bulls in off the road.




Something similar happened again recently, Anna discloses.




"What if he runs at me?" she mimics herself asking her father.




It cut absolutely no ice but the upside is that the adrenaline is flowing nicely for the warm-up.




Tactical astuteness and flexibility was a notable feature of Kilkenny's play last year under Ann Downey, Paddy Mullally and Conor Phelan. For her part, Farrell has been deployed in a few different roles.




"You do what you're told, don't you?" she chuckles.




"I have always played in the forwards. I only started playing midfield in the last year or two when I got back really fit. I always love running at goal, attacking the goal, that's my favourite thing to do but then you can't all do that. You need someone to mark the other girls. When you have people like Orla Cotter or Ashling Thompson playing midfield, or Niamh Kilkenny for Galway, you might get a point and it's great but they might get two or three on the other side. So you have to be able to adapt your game.




"But if I could run at the goal all day I would!"




The Liberty Insurance All-Ireland Camogie Championship commences on Saturday, June 10. For a full list of fixtures go to www.camogie.ie.

Categories: Camogie

0

/