Shopping Basket
Your Basket is Empty
There was an error with PayPal
Click here to try again
Thank you for your business!
You should receive an order confirmation from Paypal shortly.
Exit Shopping Basket
| | |
| --- | --- |
| Posted on 24 May, 2017 at 0:25 | |
ZACH Tuohy chuckles at the memory of that first phone call from AFL scout Gerard Sholly. At 17, he didn't know an Australian accent from a Nigerian one.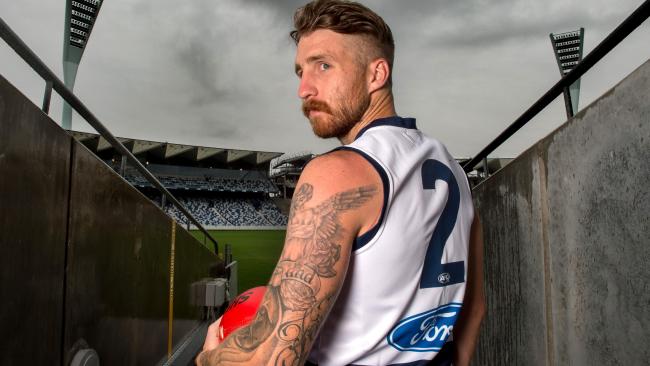 On 'Hello', the brain computed Ulster and reasoned that this must be a journalist from the north, wanting to talk about the All-Ireland minor semi-final replay that Laois had just lost to Derry.
Once Sholly got a few more words out and asked if the Portlaoise teenager might fancy trying out at an AFL training camp in University of Limerick, Tuohy tuned in very quickly.
He had obviously created an impression when scoring two goals to trigger a second-half comeback in the drawn encounter and even the minutest chance of being a professional sportsman, albeit in a game he knew nothing about, did not perturb him in the slightest.
It went well and Carlton made contact. Tuohy impressed on trial subsequently and accepted the offer of an international rookie contract, making the move in October 2009.
"I had never flown anywhere by myself, not to mind going to Australia" recalls Tuohy. "When I first came out for a couple of weeks' trial, going through Heathrow was the most terrifyingly scared I have ever been. I thought I was going to miss my flight and that would have been the end of the world in my mind.
"My parents have always encouraged me and it was very much my decision. They knew how sports crazy I was and how much I did want it. And they knew I wasn't going to be silly when I came over and wasn't going to be doing anything I shouldn't be.
"My mother still won't come to the airport to wave goodbye. She's done it a few times but hasn't done it for a long time. I'm here eight years now. It doesn't get any easier I don't' think."
The mental fortitude required to swap something you had always found easy and on a pedestal as a result of that, for being clueless and adopting a place at the bottom of the food chain is incalculable, particularly for a kid that has moved thousands of miles from home.
Cork prodigy Ciaran Sheehan had travelled with Tuohy to trial but was crippled by homesickness and did not make the transition for another four years. The pair had been staying with then Carlton chief executive Graeme Swann and he admitted to noting how Tuohy toughed it out, despite being on his own.
Even then, he could see long distance. It is the advice he imparts to the young Irish hopefuls that get in touch for some advice.
"It's hard yards early… That first two-week trial, I didn't enjoy it. I hated every second of it and still, when I went back home, there was no doubt in my mind I was going to come back. Once I came back for the real stuff, as a player, I just loved it."
After making his debut in 2011, Tuohy played 120 games becoming only the fifth Irish player to hit the ton after Jim Stynes, Sean Wight, Tadhg Kennelly and Pearce Hanley.
His consistency and durability stand out too, as he has played the last 90 unbroken. It is a long way from the record of 244, which is held by the late Stynes but only three current players Sam Gibson (108), Dane Rampe (97) and Nathan Jones (97) are on a better run.
In 2015, the AFL coaches voted him onto their team of the year even though Carlton were performing horrendously and he has made a stunning start with new club Geelong, albeit in the pre-season JLT Series, racking up tallies of 33, 27 and 25 possessions.
Tuohy is filling a spot vacated by Corey Enright, a six-time All-Australian and triple premiership winner, who retired at the end of 2016. It doesn't faze him but he wanted to create a good impression early on nonetheless.
"I'm not too fussed necessarily about what people outside think. I was really keen to show my new teammates what I could do. There's only so much you can do in training. You never really know what to expect from somebody. So I was only interested in having a good first game for the lads I play with.
"The stuff about Boris (Enright) finishing up – you don't' replace guys like that, you just try your best along with other players to help fill the void he left. I've said many times, I'm certainly not him and I'd doubt very much if anyone will be as good as him again in what he did but I'll try to fill the very, very big gap he left."
Tuohy plays the counter-attacking position better than most and with the Cats' AFL campaign getting under way tomorrow away to Fremantle, we can expect him to add to his 40 goals, many of which come from the outside the 50m arc. It is the lure of finals' footy that motivates him most however.
"I think the more established I got at the top level here, the less comfortable I became with not having success in the long term. Obviously at the start, you want to play AFL and see if you can mix it at that level. That was nice for a little while but once you've established yourself, it just wasn't enough anymore to play games. I really wanted to start winning some. We've only had one Irish guy win a premiership (Tadhg Kennelly) and I wouldn't mind being the second."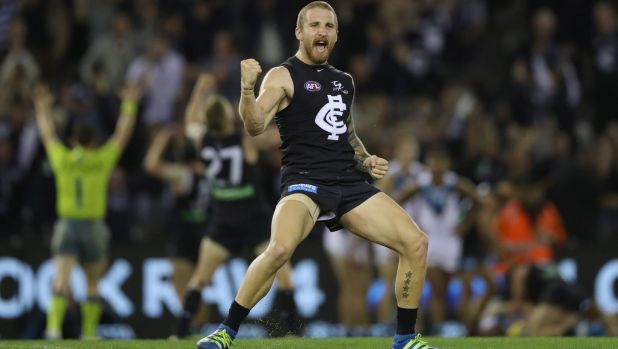 Tuohy's performances remained consistent as Carlton struggled, with the AFL coaches naming the Portlaoise man in their team of the year in 2015
Having served as a mentor to Sheehan and Ciaran Byrne at Carlton, he now has Kerry neophyte Mark O'Connor to take under his wing. Mention the annual hand-wringing that occurs when another handful of Irish boys are given the chance to do as he did – the 'GAA helpless against AFL poaching' headlines – and the chilled 27-year-old becomes quite animated.
50 GAA players that have been signed by AFL clubs since Melbourne's Ron Barassi kicked off the Irish Experiement in 1982 with another Kerry product Wight. It wouldn't qualify as a grain of sand in the context of 35 years. Of those, 19 have played senior games and fewer still enjoyed lengthy careers. Only seven have played more than 50.
It isn't easy but it's a dream and Tuohy wonders at the sense of entitlement behind the perception of threat.
"I get fierce riled up about this, it does my head in. Do people feel they have some rights over a young man's future because they helped coach him when he was eight years old?
"If you want players to stay you have to offer them something. Football is great and we all want to play for our club and county but I wouldn't mind having a decent lifestyle as well, and earn some good money, being able to play at a high level in front of thousands of people.
"Because somebody helped teach me to kick a ball when I was 10 years old, they should have some rights to where I end up? It's outrageous that there is some kind of issue, that players shouldn't be allowed go out of some misguided sense of loyalty."
He knows his former coaches are proud of him and has returned home when available to help out Portlaoise, the club and town he retains such a love for. But this is his life and it is a good one.
His partner Rebecca settling in their new home and only having an hour to drive to work in Melbourne is central to that. Three-year-old Flynn is a ray of sunshine that would wipe prevailing gloom anyway. He bursts into the room, needing a packet of crisps opened.
This is the most important thing in the world.
He doesn't know what the future holds beyond playing. He and Rebecca have an open mind. It has never been easy being away from home. Zach's father Noel is a town councillor in Portlaoise, a retired prison warden who has made his battle with Parkinson's Disease public while campaigning for the legalisation of medicinal cannabis to be used under prescription.
"He's an interesting character, my old man. He's incredibly passionate about what he does and you can hear it in his voice. Anybody who has ever heard him speak about anything he cares about at all, the eyes starts to squint and the body tenses up because he's really passionate.
"Being away from the family is probably the hardest thing… Probably not being able to bring my son home to mix with my nieces and nephews and my family as much, that was easily the hardest thing of all the homesickness stuff there might have been.
"But, again, you put it in perspective, I have it pretty handy as well."
Accentuating the positives and striving to make them better. It has always been his way, as Geelong supporters are about to find out.
Commissioned by and appeared in the Irish Daily Mail on March 25, 2017.
Categories: GAA, Aussie Rules
/