Shopping Cart
Your Cart is Empty
There was an error with PayPal
Click here to try again
Thank you for your business!
You should be receiving an order confirmation from Paypal shortly.
Exit Shopping Cart
| | |
| --- | --- |
| Posted on 20 May, 2017 at 0:00 | |
FORMER Cavan footballer and current AFL coach Nicholas Walsh has rejected criticism of the recruitment of GAA players by AFL clubs.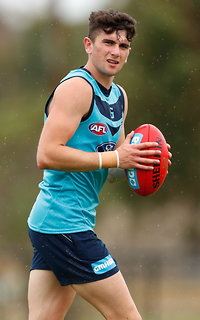 Mark O'Connor is just the 20th GAA recruit to play in the AFL
Walsh, who has been part of the coaching staff since the GWS Giants' inaugural season in 2012, dismisses the depiction of recruiters as bogeymen luring unsuspecting youngsters away from a purer life.
He also rejects the notion that the GAA, who he worked for as children games' development officer having previously spent five years as development officer of Cavan GAA, should be doing more to prevent players being offered the possibility of earning a living as sportsmen.
The former Breffni star's own bid for success as a player with Melbourne Demons was scuppered by injuries and he returned home after three years.
"I used to watch it on TV with my Dad, every Saturday morning on T na G (TG4) as it was at the time" says Walsh.
"I always said to myself that if I was ever given an opportunity to play professional sport, I would love it, and that Aussie rules was the game that was closest to Gaelic football that would enable me to do it.
"The players coming over, they're given an opportunity.
"I'm not saying it's for everyone because it's not. You had the likes of Seán Cavanagh, who decided not to come and he's very happy with that. He's played 15 years for Tyrone, has three All-Irelands under his belt, numerous All Stars, a good job and a lovely family. It was the best decision for him.
"Other guys came and didn't make it like myself and numerous others. And then you have maybe four or five others that have really made it since 1984. Why are people so bothered?
"Looking into it, most of the players that have gone back to Ireland have been successful enough with their counties too, bar a couple."
Only 50 players have signed contracts with AFL clubs since the late Seán Wight was recruited by Melbourne in 1982. Apart from Wight, only Jim Stynes, Tadhg Kennelly, Pearce Hanley and Zach Tuohy have played more than 100 games.
Stynes is the sole GAA recruit to win a Brownlow medal as player of the year and Kennelly, the only Grand Final winner.
On Saturday, dual All-Ireland winner with Kerry, Mark O'Connor became just the 20th former GAA player to play in the AFL when making his debut for Geelong.
Walsh notes that established players are taking time out in the middle of their GAA careers to pursue social or professional opportunities. Waterford hurler Tom Devine is the latest to do so, with the likes of footballers Jack McCaffrey (Dublin) and Jamie Clarke (Armagh) now returned after taking time out.
Another Dublin All Star Rory O'Carroll is missing his second season however, having gone to New Zealand, while Paul Durcan has not played for Donegal either since 2015 after moving to Qatar.
In that context, Walsh cannot comprehend the negativity surrounding young players trying their hands at the professional game.
"It's an experience. If I had a young son and I was living in Ireland, and he wanted to go to Australia or even go play soccer in England, I'd never stand in his way. People talk about the love of the club – I still love Cavan Gaels and every time I'm home I go to watch the games, but there was an opportunity for me.
"It's the player's choice at the end of the day. Ciarán Kilkenny decided that it wasn't for him and he's gone home and won three All-Irelands.
"It's very hard to make it and very few do. But I don't understand why some people view it as a threat. For a start, the stats tell you that very few make it and players return home having been exposed to a professional high performance set-up. They also have the travelling thing done and are of an age when they're ready to step up to inter-county level.
"But apart from that, it's no different to going to America or anywhere else to get a job. It's an opportunity and most of us growing up dreamed of playing sport for a living. It's the dream."
Categories: GAA, Aussie Rules
/