Shopping Basket
Your Basket is Empty
There was an error with PayPal
Click here to try again
Thank you for your business!
You should receive an order confirmation from Paypal shortly.
Exit Shopping Basket
| | |
| --- | --- |
| Posted on 16 May, 2017 at 6:40 | |
AROUND Kilkenny, if the names Shefflin, Cody and Holden come in conversation, the likelihood is that hurling will be the topic, with Henry, Brian and Joey having captained the Noresiders to All-Ireland success at the highest level, Henry considered one of the best to ever play the game and Brian possibly the greatest manager of a sports team this country has seen.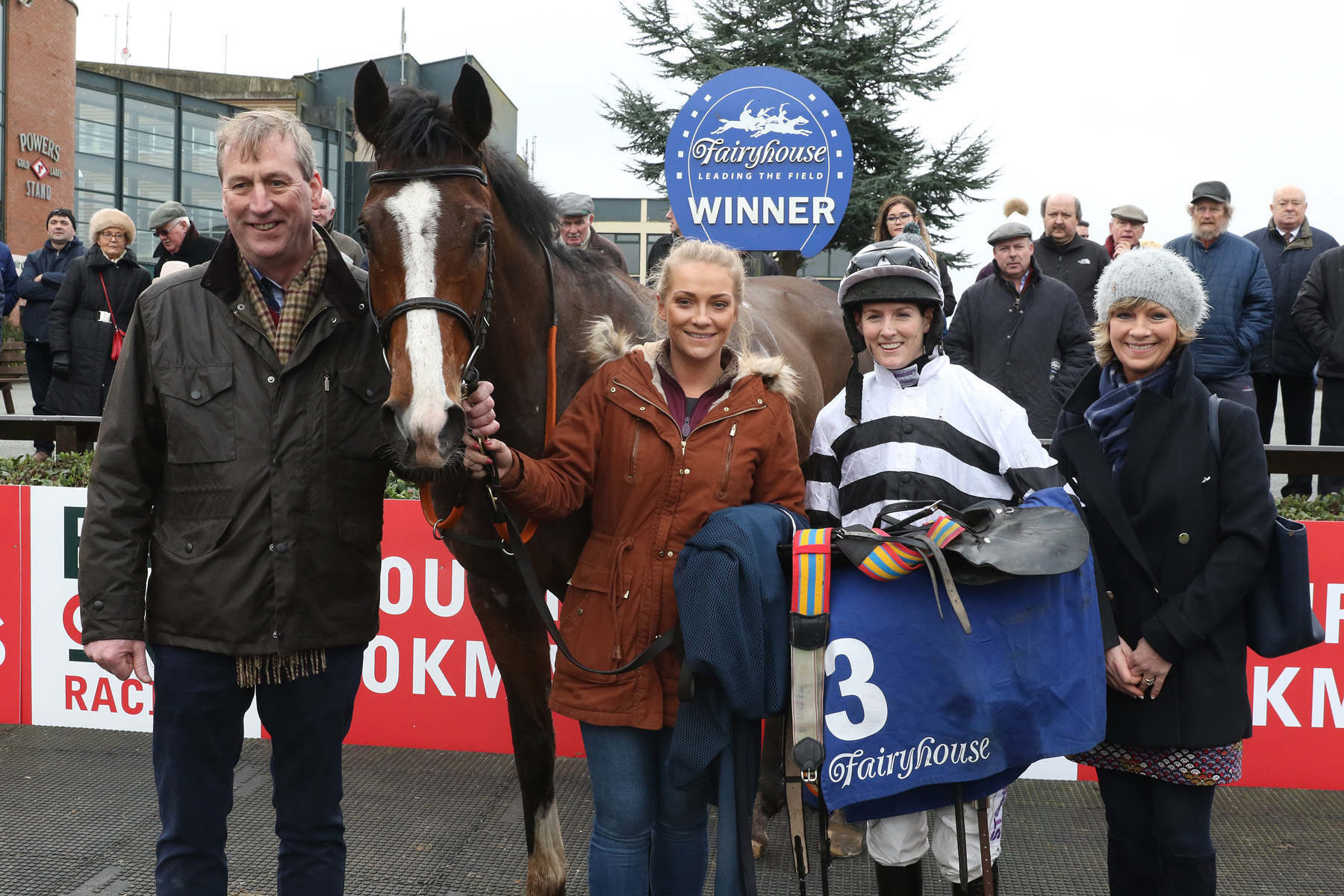 Ellmarie Holden celebrates another success with parents Paul and Catherine, and jockey Rachael Blackmore, after Ex Patriot shed his maiden status at Fairyhouse in January (Photo by Caroline Norris)
If the chat included just Shefflin and Holden, there would be a chance that Ballyhale was the subject. The tiny village is home to the most successful hurling club in the history of the All-Ireland club championship, winning six titles. It has produced some of the finest stickmen to have graced the planet, and the Shefflins and Holdens have been prominent in that success story.
Always being greedy, Cody had a couple of triumphs at that grade too, with city outfit James Stephens.
There is a stirring though, the germination at least of a new success story around Ballyhale that might shift the dialogue away from the norm in that neck of the woods.
In a county where football, soccer, rugby and just about any other sport failed to make any considerable imprint, racing has always been the second sport. Doninga was home to Dawn Run, Hurry Harriet, Herring Gull and Vintage Tipple. It was where Paddy Mullins created a legend and a dynasty. Even in this sphere, hurling has its grip, as former triple All-Ireland winner, Kieran Purcell has gone on to sample some good times as a trainer in Windgap.
Now, the tentacles are spreading to Ballyhale and having an impact in a manner that nothing outside of hurling has ever done. And that is due to the remarkable rise of Ellmarie Holden – and the important roles in that played by her parents Paul and Catherine, her assistant Ray Cody and bloodstock agent, Michael Shefflin.
Ellmarie is a "distant cousin" of Joey's she reckons but never had much interest in hurling or camogie. As long as she can remember, she has been consumed by horses and due to a widespread family involvement, was exposed to an idyllic playground.
Her grandfather Pake had a handler's licence and her aunt Monica Hartley serving as his assistant. Pake also had a few horses with Joe Crowley and David O'Brien. Meanwhile, Pake's wife Nellie Holden was a regular at the RDS as a breeder. Breeding was also prominent on the other side of the family, courtesy of Holden's maternal grandfather David Murphy and uncle Johnny Murphy, so it was the most natural thing in the world for her parents to have a few broodmares and young stock around.
Like many children up and down the land, she was self-taught, tacking up the ponies and hunters, and firing them at any available obstacle. Hunting remains a passion to this day but all she could think of was training racehorses and when the family purchased a cross-country facility, the possibilities unfolded in front of her. Initially, she took a handler's licence to prepare some of the younger horses and had a couple of winners on the point-to-point circuit. Last June, the then 26-year-old took the plunge into racing under Rules and has taken to it like almost everyone else around her took to a camán and sliotar.
"I was wanting to do it for years" regales Holden. "Then my dad built new gallops after buying a farm off John Fogarty. He had horses with Eoin Doyle for years, and Shark Hanlon. He had a couple with Gordon Elliott and Philip Rothwell as well. He wasn't sure what he was going to do and I just said I'd take out the licence and train them! It was a big thing to take the horses from all these big top trainers to give to me but he did it."
This is probably the most competitive time in the history of national hunt racing in Ireland, and only recently, Horse Racing Ireland acknowledged as much by setting up a new programme in a bid to provide some relief.
Trainers have always relied on patronage though and Holden was fortunate to have a ready team provided by her parents, Paul and Catherine. Swantykay was her first runner and almost gave her the fairytale start, beaten just under a length in a beginners' chase at Clonmel on June 10.
She didn't have to wait long to get off the mark though, as Static Jack bolted up in a bumper just down the road at Gowran Park. Sir Jack Yeats claimed a handicap hurdle at Bellewstown, the remarkably consistent My Direction landed two flat handicaps and it has gone along those lines since. In all, she has registered 13 winners from 77 runners over both codes, including Ex Patriot's brilliant fourth in the Triumph Hurdle on her debut at the Cheltenham Festival.
The former Ger Lyons charge is a hugely promising prospect that may appear in the Grade 2 juvenile hurdle at Fairyhouse on Monday and also holds an entry for the Champion Four Year Old Hurdle at Punchestown.
Lachares was bought at the Wildenstein Dispersal last year and having been shipped from Alain De Royer Dupré's yard in France, is really showing signs of settling in and chases a hat-trick of wins at Cork tomorrow.
Meanwhile, Abolitionist goes into the richest Irish jumps race, the Irish Grand National, with a major chance of taking the honours.
"A couple of the horses were raced already so going racing was easier, instead of starting with babies. Now we'll go shopping to the Land Rover Sale and start doing it that way but it was handy to be able to go racing straight away with horses that were used to it."
Apart from the very odd day at Eoin Doyle's yard, Holden hadn't any practical experience of a training establishment.
"I always had my own ideas about how to do it. I don't know what happened – I just never did go to work in a yard. But I was always hunting so I learned a lot around that.
"They all have the same routine, they do the same thing. You just train them out of their feed pot. We have that system and it's simple. It's the same every day. They're on the paddocks, they're on the walker, they're washed out… simple things. We don't gallop them every day; we have one working day a week.
"They're happy and they're healthy. The big thing for me with the barn is having good ventilation, plenty air flowing through, keeping the place infection free. Happy, healthy horses is the main thing."
It works. Holden is the first to concede to the advantages of having some nice animals at her disposal to kick off with and being provided with state-of-the-art facilities including a six-furlong wood chip hill climb, a three-furlong wood chip circle and a three-furlong fibre/sand schooling strip. Meanwhile, she regularly refers to the benefits of being involved in a family-oriented, close-knit team operating in a serene environment. That removes much of the pressures felt by other trainers.
But eight of the 17 horses that have run under her tutelage have won at least once, and another four have accumulated prizemoney. It is clear that Coolmeen Gallops is a place of expertise. Having gotten her full licence nine days ago, Holden is now considering her next move. Keep the operation running on the current scale or go for glory, expand, and take on the increased risks and headaches that go along with that?
"To be honest I'm happy with the way I'm going at the moment. It's easy-going. Everyone knows the craic. If something goes wrong, it's okay. We're so close, the little group we have. Everyone knows the routine. Maybe I'll give it the summer and then I might think about taking on a few more.
"I'm after getting loads of phone calls looking, but I couldn't take them anyway because I was restricted. But to be honest, I'll keep on the way I'm going for the next few months and I'll see."
The general sense is one of fun. It is notable even in the ownership of the horses. The Wylies and Rooneys have gone for both spouses' names, while Susannah and Patricia get the nod in the Ricci and Hunt households. With the Holdens, it is either Paul or Catherine, with separate colours. Paul has Ex Patriot, Catherine Abolitionist.
"You win some, you lose some" chuckles Holden. "They'd be getting on to each other over it! It's good ould craic."
The same applies to her relationship with her father. You wonder if, at the start at least, he might have been inclined to be looking over his young daughter's shoulder.
"He knows when to go away from me" she laughs. "Ah no, he was cool enough. He left me off to do my own thing."
She describes Cody as "a genius" and the duo travel with Shefflin to the sales.
"Michael Shefflin is our agent. He's been doing it for years for us. He bought Lachares up in Goffs in September, and Look Closer and Ex Patriot at the November Sales and basically me, Ray Cody and Michael in the last year since I got the licence, we've headed off together. Before that, Michael was the one doing the buying. He is a great judge."
Holden's horses have formed a very fruitful relationship with fellow 27-year-old Rachael Blackmore, and the trainer is fulsome in her praise of the leader in the race to be champion conditional jockey.
"She's unbelievable. She's just riding out of her skin at the moment. I don't know what it is about that girl but the horses just seem to run for her and jump for her and do everything right for her."
Blackmore was on board when Ex Patriot ran such a belter on St Patrick's Day at Cheltenham, just three days before the gelding would celebrate his fourth birthday. It didn't go as smoothly as they would have liked though. Holden conducted an interview with ITV and the next shot provided by the broadcaster was of her charge apparently taking the opportunity to do some sight-seeing around the Cleeve Hill Mecca, having relinquished Blackmore when she quite reasonably demanded that he concentrate on the task at hand.
"I know! I just turned around and looked at the big screen. I was like 'Oh Mother of God.'"
The son of Elusive Pimpernel didn't get too far before being collared and reunited with his pilot. If the little foray is unlikely to have taken too much out of him, the week itself might have, particularly as he had been entered in the boutique sale on Thursday night.
"Travelling over for the first time, being entered in the sales and it was busy around the stable yard over the few days, you wonder. At home there's nothing, just peace and quiet. There's no noise. He was cool the whole way but it has to have taken something out of him. It'd take it out of yourself, you know!
"But I'm not using it as an excuse. He came up there despite having to go wide. There was nothing gonna beat the winner (Defi Du Seuil) anyway. He's a superstar. They're all good horses and he ran a great race."
The Holdens rate him so highly that they took him back home for £200,000. He would have moved on had they received a tempting offer but they weren't complaining.
"Whether he was sold or whether we brought him home, it was still a win-win. No-one lost out. If we'd have gotten the money for him, we'd have been able to go to the sales again and bring on a couple of more. But to still have him is great. I was on Cloud Nine bringing him home!
"He has a serious engine. We'll have great fun with him next year. I'd say we'll maybe go chasing. We may go to Fairyhouse or Punchestown – whether we'll go to the two or just one of the meetings, I'm not sure yet as we don't want to have one race too many with the potential he has. He has run a lot since we've gotten him.
"There's no panic. We don't have to go anywhere. That's the way it works with Mam and Dad. There's no-one saying 'We have to go here, we have to go there.' But he'll be on a holiday after that and we'll bring him back then towards the back end of the year and get going again with him.
"He is a lovely scopey horse and looked the part at the sales. He'll be bigger and stronger again next year. He'll love fences if we do go down that road next year. We have so many options with him."
She has always been confident that Abolitionist would make the cut for the Easter Monday extravaganza, once he won the Leinster National at Naas the weekend before Cheltenham. Mind you, the number of times she had to field the question, made her doubt herself. She can barely believe that she will even have a runner, not to mind one that could quite conceivably bag the €275,000 first prize.
"My God, if he could get home, get around safe and sound, you'd be delighted. But going on his last two runs he won't be too far away. He's thriving at home, loving his work, schooling away. Rachael comes in a couple of mornings a week and does all the schooling so she's keeping on top of it all as well.
"I was a bit concerned about the ground in the Leinster National, that he mightn't have handled it. Obviously he'll be better on nicer ground but I'm not so concerned about whatever comes up now that he managed to put in that performance at Naas (on soft to heavy). And he'll love the trip."
Albolitionist and @rachealblackmor on their way to victory in The @LadbrokesExch Leinster National for Ellmarie Holden! Well done to all! pic.twitter.com/1X4BRFEEVu

— Naas Racecourse (@NaasRacecourse) March 13, 2017
It would certainly represent a huge surprise if Abolitionist didn't pick up some prizemoney, which is on offer all the way down to the 10th finisher, but regardless, Holden knows that she could not have asked for a better debut campaign.
"To have a handful of horses, a small little yard… There was only myself and Ray there for the first couple of months and then Ray's nephew – Ray Jnr – came in after Christmas. It's hard to believe how well it's be going. I'm so lucky to have Ray Cody – he's a genius. Then Michael as well with his knowledge. And Little Ray coming on… we've a great team, everyone gets on so well, and good horses and hopefully we'll tip away the way it's going.
"I am living the dream. I'm after having 13 winners, a fourth at Cheltenham and then to have a runner in the Grand National, and be in a couple of graded races. Like… that's crazy! You couldn't actually dream it."
Well it is reality now.
Categories: Horse Racing, Flagged
/