Shopping Cart
Your Cart is Empty
There was an error with PayPal
Click here to try again
Thank you for your business!
You should be receiving an order confirmation from Paypal shortly.
Exit Shopping Cart
| | |
| --- | --- |
| Posted on 12 March, 2017 at 11:30 | |
HE WELCOMES you at the front door, the smoke he exhales more vivid in the zero-degree night.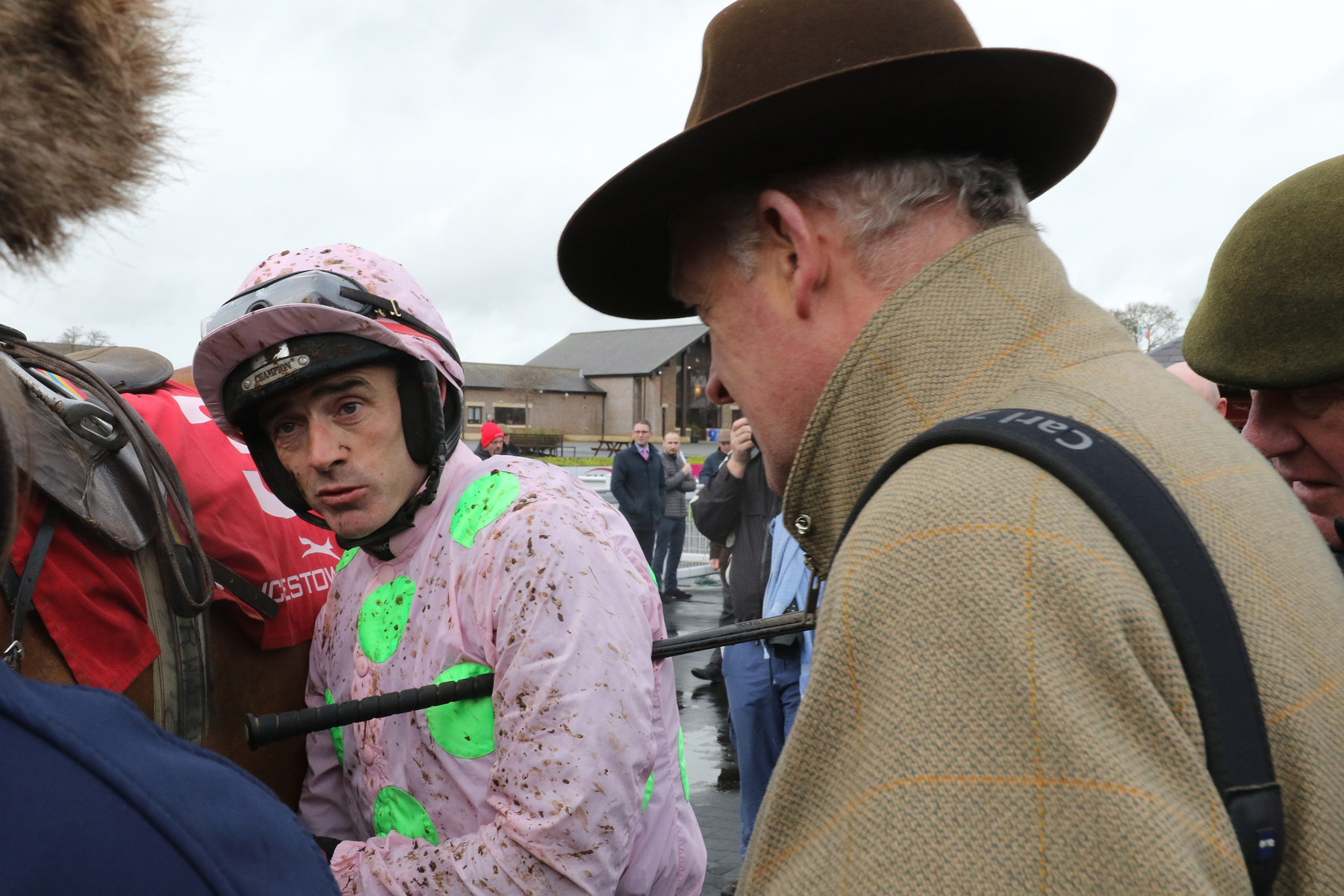 You not given those up yet?
"For Lent" comes the reply. "So the girls tell me anyway."
He smiles broadly and ushers you in.
If there is an expectation that Ruby Walsh might be feeling low as a result of the 30-hour-old news that Faugheen and Min are out of the Cheltenham picture, it disperses quickly. Of course he wishes they were making the trip, along with Annie Power and the ill-fated Vautour. He's not a robot. Mention Annie Power's fall at the last in the Mares' Hurdle in 2015 and his hands go to his head, which then drops to the table. There is a rueful smile but it galls him.
The thing is, he has context. He learned very quickly growing up in a yard that didn't have many superstars that the good days were rare, and every corner was more likely to have a setback around it than a joy unconfined.
Isabelle, Elsa and Gemma have only added to the sense of perspective. Walsh and his wife Gillian have supervised the completion of school homework and the trio are in bed when the visitor arrives.
"They all have their own rooms now. It's like a dormitory up there."
His features crease every time he mentions the girls. The broad smile is much in evidence over the next 90 minutes or so.
There are those that would say it is easy to have context when he still has access to the cream of the crop and he knows how fortunate he is. At the time of this conversation, he has 109 winners. He is now on 112 and that gives him a shot at beating his best ever total – the 131 he needed to keep Davy Russell at bay to be champion in the 2007/2008 season. Charlie Swan's record of 150 from 95/96 isn't completely out of reach, though he would need an extremely bountiful last 10 weeks.
The strike rate of 37% is noteworthy too, compared to the average of 31% from the previous five campaigns in this country. Remarkably, he still has his detractors, while the last-fence blues re-emerged as a source of debate recently.
Are you sick of hearing about it?
"No."
Is it something you think about?
"No."
Have you thought about why it's happening?
"No. I've got 30… what did you say I have?"
A 37% strike rate.
"I'm doing an awful lot wrong, amn't I?"
But you would or could have had more winners.
"Of course you would. I can't explain what Royal Caviar did and I've looked at it a good few times. I have no idea what he did. I'm full sure if he'd a blindfold on him he'd have made more of an effort. It was completely out of the blue. I wouldn't even consider Nichols Canyon because he was just out on his feet. Augusta Kate clipped the top bar – novice, second run over hurdles, flat to the boards, those things can happen. What else?"
There was that run of them last year. Valseur Lido?
"I fell off him."
The Yanks would always like the way he 'owns' his mistakes and wrong decisions. The Irish Gold Cup is one he'd like to have back but this is race-riding over jumps, not marbles. So he doesn't fret too much.
Nor is he bothered by people on social media libelling him because they were stupid enough to risk €100 to win €40. But he is concerned by how Twitter in particular brings out the worst in people and worries about what lies ahead for his children when they're teenagers.
"What did I hear on the radio this morning? Something like one in 10 kids experience cyber-bullying? 10 in 10 kids should (learn about) cyber-bullying before they even approach social media 'cos that's what's going to happen.
"I'm 37. It has no real bearing on my life whether they're saying I'm brilliant or horrific. I'd be more worried about my three kids and what they're gonna face when they're 17 or 18, or 15, 14, when they go on Twitter, what bullying goes on and how that will emotionally affect them. That would worry me much more, what might happen to them, than what any fucker is saying about me.
"Twitter is bullying. You see the awareness of it in schools, with the kids. They're trying to stamp it out big time, make them aware of it. I'd be flicking through it. I have more lads blocked than I probably do following me. But you would have to wonder about the younger lads in the Weigh Room, and to me personally, I just worry about my kids and how it will be for them."
Would it not rile you to have a guy saying you're knocking the horses?
"How do you knock…? How does 10 stone knock…?"
He's exasperated.
"I'm 64 kilos. Right? Give or take. And now I'm physically strong enough to knock 450 kilos? I can barely lift 110 or 115 kilos in a dead lift but I'm able to knock over 450? And who wants something eight times heavier than them falling on them at 30-odd miles an hour? Come on!"
There were those willing to say you knocked Annie Power.
"I could have ridden a four-timer at Cheltenham" comes the bemused and anguished response. "No-one has ever ridden four winners in one day at Cheltenham.
"A fucking four-timer. Would you stop? It's fucking killing me."
Context isn't a fool-proof mechanism.
"I'd love to be able to figure it out. I'd love to never again have a fall. But that's not going to happen, is it?"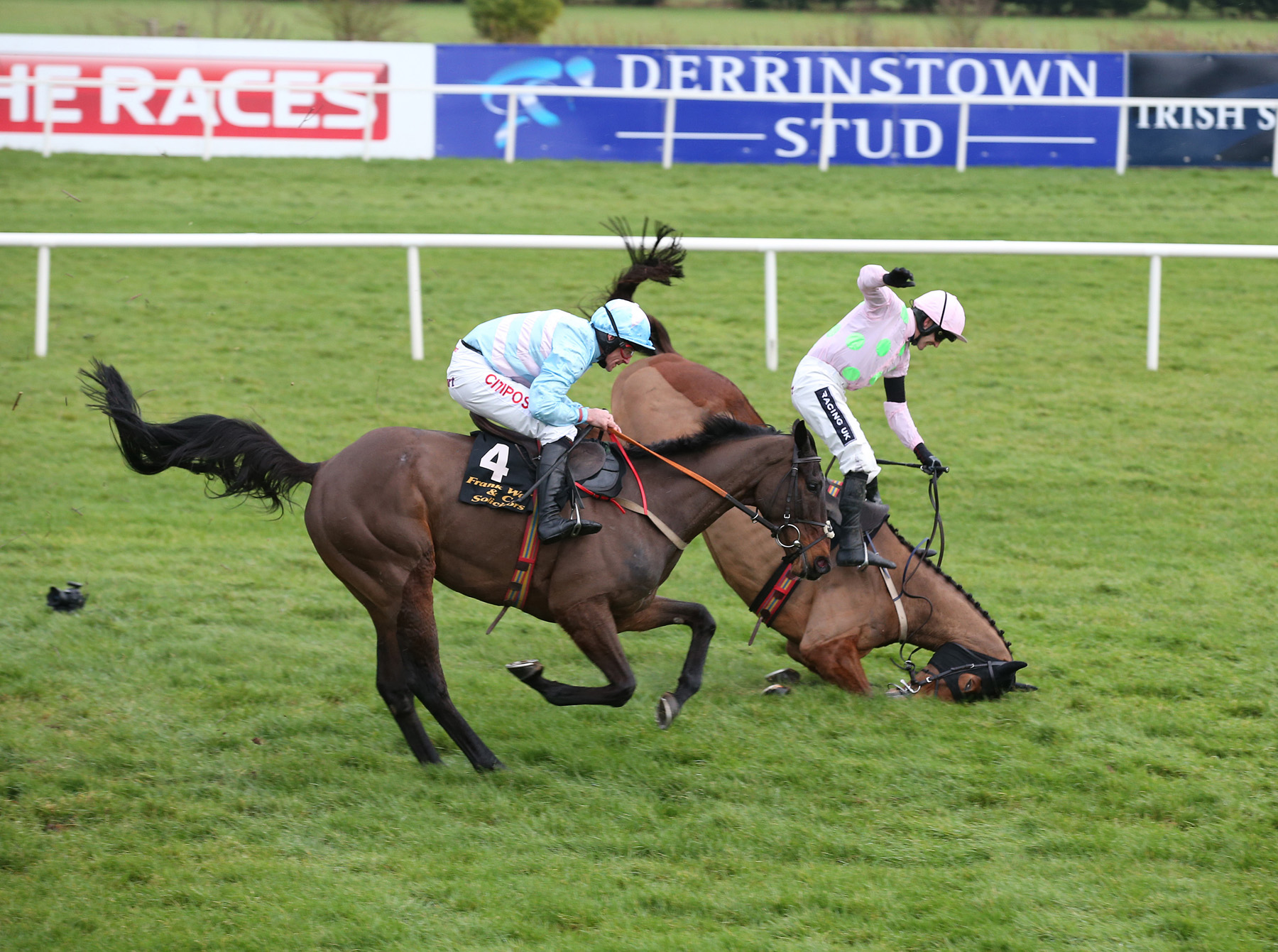 "I can barely lift 110 or 115 kilos in a dead lift but I'm able to knock over 450? And who wants something eight times heavier than them falling on them at 30-odd miles an hour? Come on!" (Photos: Caroline Norris)
****
IT SEEMS that ever since the Gigginstown contingent decamped for pastures new, Camp Closutton has endured its toughest period since making Everest its home – albeit while accumulating more than €2.9m in prizemoney in Ireland alone and sending out 142 winners as of Thursday morning.
"I still say Vautour was the biggest blow. That was freakish. He had had such a funny year last year. He won in Ascot but was only alright. I don't think you saw a true performance in the King George. He only got beat a head but he never really sparked. He went to Cheltenham and yeah, he won well but to me he didn't win as well as when he won the novice chase the year before. He beat the same horses but there was just no comparison.
"Then coming back in, looking so well, he seemed fresh and strong. He was just untapped potential. Faugheen is an injury. With a bit of luck you'll have him back. Annie Power got to Cheltenham three times, won a Champion Hurdle. If she runs again, great. If she doesn't, she's gonna retire to stud. You'd love another go on her and I hope to God she runs again… but it's different.
"That was the biggest blow."
It was striking how in an interview with Donn McClean in Irish Racing Yearbook 2017, Walsh pinpointed Vautour as the one who might have been his next Kauto Star. Rather than, let's say, Douvan.
"Maybe (it's because) Douvan is so consistent. He never seems to have had an off-day. Vautour did. He scraped home in a novice hurdle one day at Punchestown and we had to put the squeezers on him in Leopardstown to win the Deloitte. Then he went to Cheltenham and bolted in and you're thinking 'My God!'
"Then you're looking at him at home and he doesn't work well. Then he works worse. Then he goes to Cheltenham and I'm thinking to myself 'How is Willie Mullins even putting him on the horsebox?' 'Willie, come on, you're having a laugh.' At Cheltenham he comes alive and he's prancing around the place but he's a bit of a showboat anyway so it could just be that. Then he bolts in and you're thinking 'How good is this? He's not even sparking and he does this?'
"Whereas Douvan is just Douvan. He's never had an off-day. Bolted in at Gowran, bolted in at Punchestown, went to Cheltenham and hosed up. I don't ever even remember Douvan working bad. Maybe you just expected it with him, whereas with Vautour, you never really knew what you had. There was the bad side but then there was that brilliance."
Douvan was flawless once more at Punchestown, in his final prep run for Cheltenham, never touching a twig.
"He doesn't. And you could go faster but…. I always look for the longevity in them, so I'm always trying to win doing as little as they can. It's not a case of ticking the races off but you're always keeping a bit if you can. Try and make these last as long as they possibly can because they're so hard to find.
"I think I turned the screw once on Faugheen."
He pauses.
"He didn't run since."
Longevity isn't just the key to a horse's greatness. That applies to riders too. Walsh stumbled across weights when rehabbing his reconstructed shoulder two years ago and works weekly with Enda King at the Santry Sports Surgery Clinic. He also has a routine at home.
"I am definitely stronger, and fitter a different way. When I was riding for Paul Nicholls and Willie Mullins and riding seven days a week I was as fit as a flea. But... having to rebuild that shoulder to make it work again, I realised what rehab was. I started in Santry with Enda King and I remember coming back thinking I was almost a different shape.
"But I had all those things in my head. You hear stories. 'Don't lift weights, muscle is weight.' It's a load of shite. You're not lifting huge, heavy weights. It's lighter weights, higher repetition and understanding then how all the muscles in your body work, and why you get pains in different places is because you're compensating with one muscle is doing a job another muscle should be doing. Instead of using your shoulder blades, you're using the muscles below it. And all of a sudden you realise, if I stick at this, things might happen.
"I definitely feel..." He searches for the word. "Harder."
He likes the idea of the jockey pathway that Turf Club duo Dr Adrian McGoldrick and Dr SarahJane Cullen have established for apprentices and conditionals, in a bid to make them think of themselves as elite athletes, but admits that a young Ruby Walsh would have been too immature to listen. Not even the grown-up Walsh will listen to anyone attempting to change his diet however, because what he does works for him.
"I eat twice a day and I only eat twice a day, apart from holidays, when I might eat a third time, but I'll see it on the scales when I come home… And every dietitian in the world will tell you, you have to have breakfast to get the metabolism going, you should eat little and often. Maybe you should. But I know my weight doesn't budge a pound one way or the other… I'll either be 10 stone or 10-1 when I get up in the morning. On a bad day I'll be 10-2, on a good day I'll be 9-13. So that's the extent of the variation."
When his great mate AP McCoy retired, the Ulsterman said that he had run out of goals. Walsh doesn't set targets, doesn't look to the future. He says he doesn't know his numbers and was surprised to learn that he had 195 Grade 1 victories to his name. Just to put that into context, an admittedly perfunctory search has failed to find anyone else on the planet with more than Barry Geraghty's 105. McCoy had 84, Paul Carberry 58. Richard Johnson has 36. Reaching 200 would, he admits, be nice, particularly if it were to happen in Cheltenham. Last week's blank at Leopardstown has made the task a little more difficult.
"I was a trainer's son before I was ever a jockey. I can go back as far as Barney Burnett getting a leg. From a superstar novice in 1985, getting a touch of a leg in '86… he came back and won a Leopardstown Chase and was placed in an Irish National after but he never came back the same horse.
"Since I was seven, I'm looking at this. 'What can go wrong?' Rince Ri, Commanche Court… I know what can go wrong. I've seen it all my life. All the highs I've had in racing, I know how lucky am. Because racing is a culmination of lows, with a few highs."
He's smiling as he speaks because racing has ever been thus. And he knows that most of his weigh room colleagues would like to have his problems.
"We have Douvan, Vroum Vroum Mag, Djakadam, Un De Sceaux, Yorkhill, Bellshill, Let's Dance, Limini… there's loads of good horses.
"Now, whatever way you look at it, a couple of your champions aren't there. Annie, Faugheen, Vautour – right, Min is a novice who would have had to take on Altior but you would have like to have gone to Cheltenham with your gun loaded to take on Altior.
"But what probably comes then with success is greed" he emphasises the word with a grin. "You want more. Alright, the Supreme, we have one for that. The Arkle? Fucking hell. Alright, the Champion Hurdle. Ah fucking hell, Cheltenham's over!"
Scrap the whole thing! If you didn't have the hunger still, you would be retire, wouldn't you?
"Would I? I don't know."
Could you see yourself tipping along?
"Tipping along on bad horses?"
I couldn't see that.
"No!"
What I'm trying to say is that champions have a drive and they pack it in when they don't feel it anymore.
RUBY WALSH - THE WINNERS
Total: 2643
Ireland NH – 1850
Ireland Flat – 14
GB NH – 766
France – 10
Japan, US, Australia – 1 each
Grade 1s: 195 (a world record for NH jockeys)
(correct as of Friday, February 17, 2017)
DOUVAN
"Poor old Douvan doesn't realise the pressure he is under! He looks great."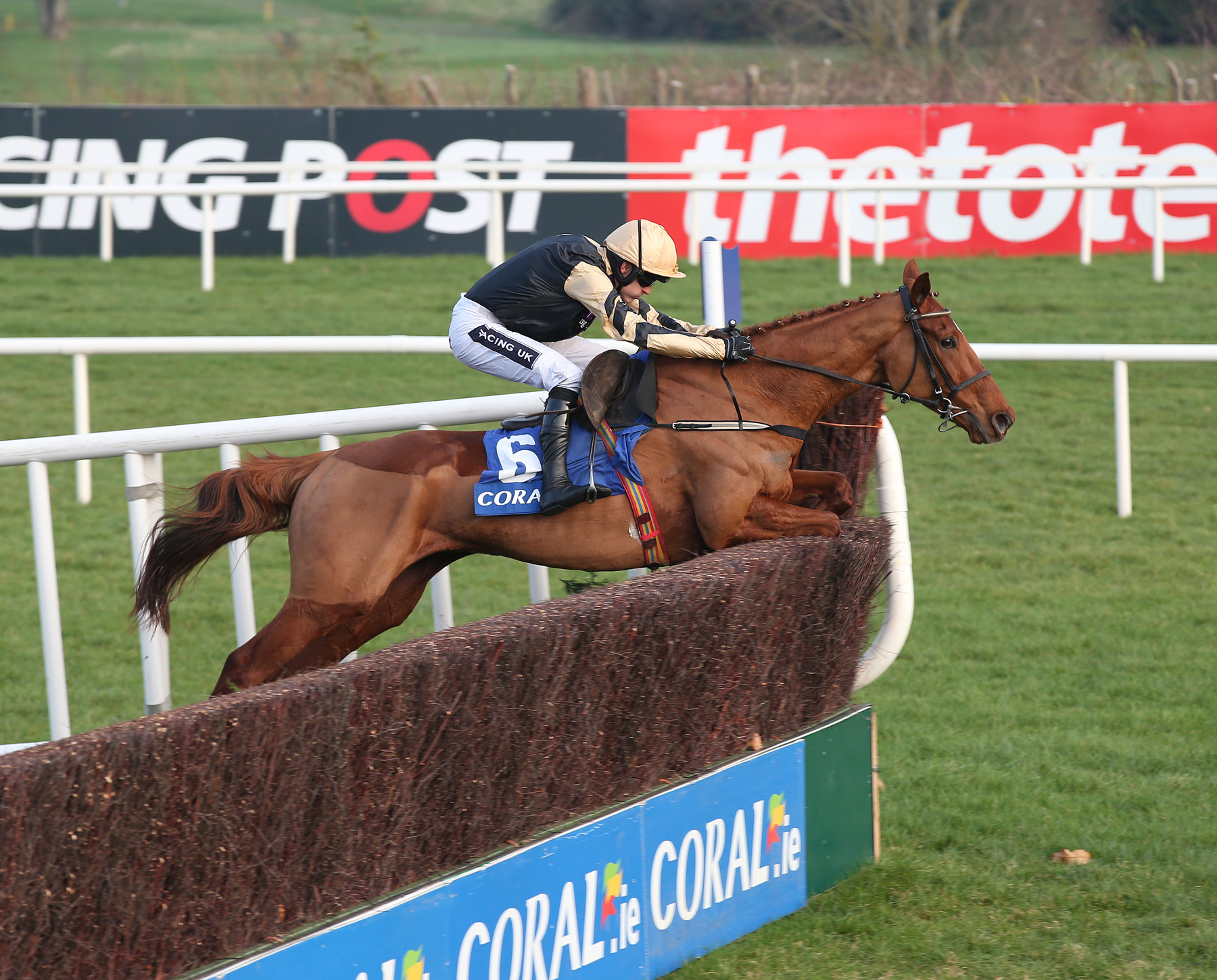 YORKHILL (above)
"I wouldn't get off him for anything else. (The last day was) typical Yorkhill. Take out his beginners' chase and I don't know how he ended up winning so far… probably 'cos they were just an ordinary bunch of horses. He won a bumper two and a quarter lengths with Patrick at Punchestown; he's down the straight flogging him and he couldn't pull him up. That's just him."
"I think the JLT is the obvious race… I'd say he has the pace but could I see him dropping back (in trip)? I don't know. It'll all depends…. As true as God I'll say he'll run in the JLT and he'll run in the Arkle. At this stage I'm used to being wrong!"
What about jumping left?
"Ah he'll be grand. He'll be fine."
UN DE SCEAUX
"He doesn't probably get the real testing ground that he likes in England and it's his ability to go good-ground speed on soft ground that sets him apart. Horses can't keep up. They can't keep coming at him. And he keeps going. He's a wonderful little horse.
"He does have the option at Cheltenham on drier ground to go up in trip. Drier ground doesn't affect his jumping but he just doesn't go much quicker, whereas unfortunately a horse like Sprinter Sacre, Douvan, they just have too many gears. In fairness, he was gaining ground on Sprinter Sacre at Cheltenham last year but he just couldn't go. You just think if you're going a little further, you won't be getting off the bridle as early and he'll still be going the same speed."
DJAKADAM
"I gave him a bollix of a ride the last day. I should have made more use of him. He was keen and I allowed slow horses to dictate the race to me. He was too free and then when he spat it out, it was too late. Then you're trying to give him a chance when I should have been getting into the race. I did everything back to front. But it was coming off a quick turnaround for a big, staying horse like him.
"His two Gold Cup runs are rock solid. When you think last year at the end of January he got a bad fall and a bad cut on his chest. It didn't hold him up, we didn't think but you'd be hoping with a clearer run you could get him a bit better… you have to think as an eight-year-old he has to be better than he was as a six-year-old but does he have to improve that much?"
VROUM VROUM MAG
"She fell in at Doncaster. I don't think she sparked in Fairyhouse either. People say I was too far back on her. I think she was just a bit keen but she got there to win. Now Apple's Jade was hard fit and she's a very good mare. I thought going to the last I was gonna win. I knew when I landed I was up and down a bit. She didn't spark. With a bit of luck we'll get her back into the same form she was in last spring. Then she'll be hard to beat. The Mares' Hurdle would look the obvious race."
MELON
"Melon only won a maiden but couldn't have been any more impressive. He's skimpy enough mind at 3/1. What price was Vautour when he won the Supreme?"
He looks it up. 7/2.
"You mean to tell me a horse with one run over hurdles is gonna be 3/1 in the first race on the first day at Cheltenham? Now maybe they have massive liabilities at 25/1, I don't know. Vautour had won a maiden hurdle at Navan, the hurdle race that Crack Mome got beat in at Punchestown, and then he won the Deloitte. He had three wins and a Grade 1 and he went off 7/2 joint favourite with Irving. Now, you explain to me how Melon can be 3/1 after winning a maiden?"
THE TINGLE CREEK FURORE
"To me the point was, before there was entries, someone thought Douvan wasn't gonna run, so they priced him at 5/1. Now that person, to me, is committing fraud, because he's trying to lay a horse he thinks is not gonna run. That's how I looked at it.
"So now, all of a sudden, Willie Mullins enters Douvan. Billy Big Balls, who has tried to rob a few quid…
… is bricking it.
"Yeah, and has to try and lay it back off. Now he doesn't have a clue but he doesn't want to be laying Douvan at 5/1 because he's a 2/1 shot as an entry; he's a 1/3 shot if he's declared… Then you had bookmakers coming along saying 'the right people' were on. Will someone tell me who the right people are?
"Maybe someone within the bookmaking game can tell me… before entries, do you multiply the price by the probability by something else? Maybe it ends up at 5/1… I can't see it does, 1/3 multiplied by whatever. I think whoever was laying him was laying him thinking he was a non-runner. Now he ended up a non-runner so ultimately they were right, but regardless of whether they were right or wrong, they were laying a horse they thought wasn't going to run and I think that's wrong. If they thought he wasn't going to run he shouldn't have been in the betting. That's having your cake and eating it, with ice cream and whipped cream and all the rest on top of it."
WILLIE MULLINS'S PROCESS
"It's just what he sees. Sometimes he'll say 'That's a Supreme horse' and then one morning he'll see something and say 'That's a stayer' or 'He wants to be going a bit slower jumping, step him up in trip' or he might think 'Bring that back in trip, that can jump at speed.' That's what he did with Black Hercules, even though he fell in Navan. He knew the way he attacked a fence coming back to 2m 5f for the JLT would suit. He looks at different things.
"And he's not afraid, which is important for any sportsperson. He's not afraid of being wrong. He'll leave it to the last minute, weight it up, weigh it down, put himself under unbelievable pressure but when he makes the decision, the decision is made.
"He does the declarations at 10 to 10. There's no point in doing them at half nine because he could change his mind again at 10 to 10. He does them late because as he says, it doesn't give him time to change his mind. He makes the decision and that's it.
"'When do we have to decide that?' is the most common question. He plays it over, mulls it around and kicks it about until he has to decide."
This article appeared in The Irish Field on February 18, 2017.
Categories: Horse Racing, Flagged
/