Shopping Basket
Your Basket is Empty
There was an error with PayPal
Click here to try again
Thank you for your business!
You should receive an order confirmation from Paypal shortly.
Exit Shopping Basket
| | |
| --- | --- |
| Posted on 28 January, 2017 at 6:50 | |
THERE is nothing like starting a new job to take your mind off an impending AIB All-Ireland intermediate camogie club semi-final.
Áine Lyng began as the National Cancer Control Programme's cancer prevention manager on Monday, the role marking the latest step in a career progression that has centred on the utilisation of exercise to offset serious illness.
Her love of camogie complemented her interest in this area but after the All-Stars nominee had qualified from UL with a sports science degree, she had to call time on the sport when departing for Liverpool's John Moores University in 2010 to complete her Masters in clinical exercise physiology.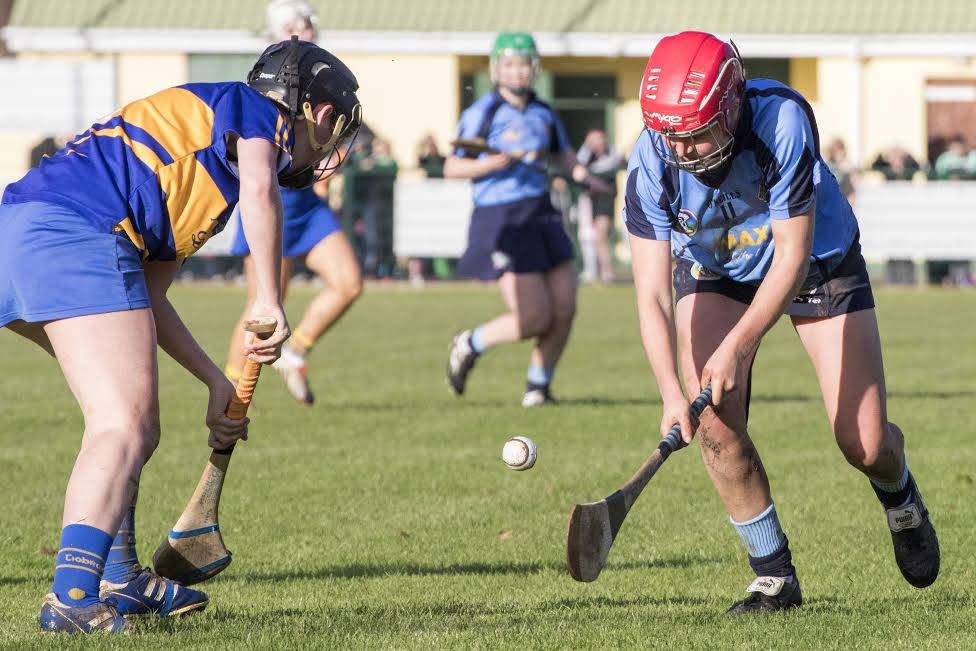 Lyng (above right, Photo: Gareth Saunders/Cahir Media) had been one of Waterford's best performers as they fell agonisingly short at the last hurdle in both the 2009 and 2010 All-Ireland premier junior championships, but apart from a brief attempt to play in Liverpool, Lyng did not return to the sport until the beginning of 2016.
Instead, she turned her attentions to endurance and ultra-distance running, and has run marathons in Paris, London, Dublin, as well as taking on more extreme events like the intriguing Man versus Horse Marathon in Wales.
Her passion to engage people in healthy lifestyles brought her in this direction, by virtue of the career path she had embarked on. Working with children that suffer from cystic fibrosis and using a Nintendo Wii as an exercise tool was just one example of the fulfilling work she was doing.
She spent the last five years at Oxford University Hospitals NHS, as a clinical exercise physiologist in the cardiac rehabilitation centre, and played a key role in the success of the Here For Health Centre established in 2014 to provide education and information to people about taking positive steps to improve their lifestyles and health.
"You're engaging with people" says Lyng. "You're not telling people what to do. It's more about trying to encourage them and help them in their lifestyles. If you can help them make that difference for themselves, it's very rewarding.
"Everyone I've worked with in this area is so enthusiastic and passionate about what they do. It is infectious."
The lure of home was strong though and when the opportunity at the NCCP headquarters on Parnell Street in Dublin's city centre presented itself, it was one she could not pass over.
A national cancer strategy will be rolled out very shortly and with the number of people that survive cancer increasing, a greater emphasis will be placed on taking the proper steps to ensure that it doesn't return. It's now about prevention and survival.
There are so many potential triggers in terms of alcohol consumption, smoking, unhealthy eating, exposure to sun and a variety of occupational hazards such as an exposure to chemicals.
Lyng had one full day done when speaking to this writer and her role is sure to develop in the months ahead. But at the root of it all is educating and informing the public, something she believes is becoming easier now with the impact the likes of the Operation Transformation movement is having.
"There's a lot of information out there. People get bombarded by so many different messages and it's about people having access to the right information so that they can make the right decisions themselves."
Meanwhile, she is back in the fold with Gailltír. Management contacted her around November 2015 wondering if she might be interested in picking up a hurley again. At the same time, they persuaded her father Paul – a former Waterford manager – to come on board. When he agreed, there was no way Lyng was going to turn down the invitation.
Although it took time to get back into the swing of things, the 29-year-old had a significant influence as Gailltír ended the domestic dominance of former All-Ireland victors Lismore and went on to win the Munster Championship. Next up are Tyrone and Ulster representatives Eglish.
While she loved the individual pursuit, there is something unique about the mood generated within a flourishing group. They have been exposed to outside trainers like Kilkenny coach Paddy Mullally and fitness expert Mags Murphy in a bid to improve in as many facets of their preparation as possible.
"There's a brilliant underage group after coming through and they're so enthusiastic, it would drive you on. It gets you over the frustration of the skill level maybe not being the same as it was. And the adrenaline drives you on. There's such a good atmosphere there.
"We have a good balance of the youth, who have had a lot of success, and some of those more experienced players. Jenny O'Grady came back from Australia, Aileen Cummins came back from New Zealand so a few of us exiles have come back too. So you have a good mixture and it's all clicked. You develop this friendship, this bond, which is very, very special."
"Our focus is to be the hardest-working team. First it was to be the hardest-working team in Waterford. Then it was to be the hardest-working team in Munster. Now it's to be the hardest-working team in Ireland."
SUNDAY JANUARY 29
AIB All-Ireland Senior Club Championship Semi-Finals
Burgess-Duharra (Tipperary) v Slaughtneil (Derry)
Inniskeen Grattans GAA, Co Monagahan, 2pm, Ray Kelly (Kildare)
Sarsfields (Galway) v Thomastown (Kilkenny)
St Brendan's Park, Birr, 2pm, Cathal Egan (Cork)
AIB All-Ireland Intermediate Club Championship Semi-Finals
Cappataggle (Galway) v Myshall (Carlow)
Coralstown/Kinnegad GAA, Co Westmeath, 2pm, Fintan McNamara (Clare)
Eglish (Tyrone) v Gailltír (Waterford)
Donaghmore Ashbourne GAA, Co Meath, 2pm, Owen Elliott (Antrim)
*In the event of a draw at full-time in any fixture, extra-time will be played
Categories: Camogie
/